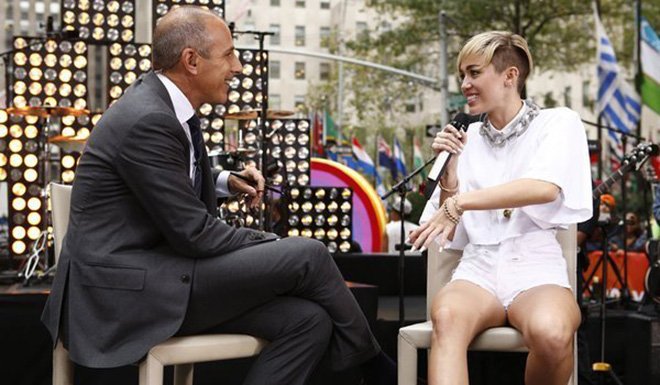 In his post Katie Couric and Meredith Viera life, Matt Lauer has become synonymous with awkward moments on Today, though his interview with Miley Cyrus is one for the books.
While discussing her new album 'Bangerz,' Matt shifted the discussion to sex and asked the 20-year-old pop star how long her "sexual phase" will last.
Matt, why are you asking this? You creepy man, you. Have you learned nothing from your verbal spanking from Anne Hathaway?
In response to Matt's creepy question, the quick witted daughter of Billy Ray Cyrus said:
"I heard when you turn 40 things start to go a little less sexual. So probably around 40, around that time I heard that's when some people don't have sex anymore. I guess maybe around then."
Matt's actually closer to 60, so that got Miley to quip, "Oh, well, then you're really definitely not sexual."
Yes, that really happened on morning television. You can catch the segment at the top!
Be the first to receive breaking news alerts and more stories like this by subscribing to our mailing list.