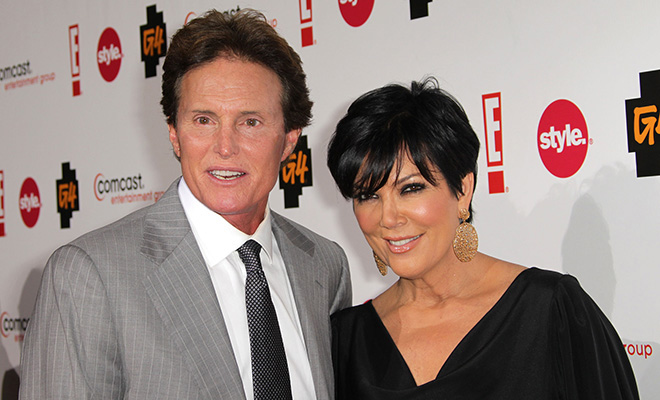 Kris Jenner and Bruce Jenner have finally confirmed what we've all been speculating for months: they are no longer together, and have "separated," which means that Bruce now gets to do whatever the hell he wants, whenever the hell he wants, and he doesn't have to get permission to do it.
The couple, who have been married for 22 years, officially announced their split to E! News, saying in a joint statement that they have been living "separately" and are "much happier this way."
Those Kardashians never treated Bruce right anyway, so good for him for finally getting away from the Klan.
If this were an episode of "True Blood," Kris would have been Bruce's maker, and she would have told him "As your maker, I release you," freeing him of her control and influence. But since this is real life, and not HBO, we just have this statement:
"We are living separately and we are much happier this way. But we will always have much love and respect for each other. Even though we are separated, we will always remain best friends and, as always, our family will remain our number one priority."
Is it wrong to imagine Bruce Jenner slowly typing this while Kris stands stands behind him with her arms folded like a villain, nodding her head and requiring approval for every. single. word? It is? Oh, OK.
News of Bruce and Jenner's separation shouldn't be new to anyone who keeps up with the Kardashians.
As E! points out, during the current season of their reality show, Bruce has been living in another home, and Khloe told Jay Leno a few months back that her mom and step-dad "like to live a part."
"They're not having problems, but they still like to live apart, which is definitely different," she told Jay Leno. "You know, Bruce and my mom, they wanted some… In my house there is a man room for [Lamar Odom]. A room, not a different house. So I think they took my idea and ran with it. They got another house and Bruce stays there sometimes."
According to TMZ, Bruce's "man house" is in Malibu, where he's been living full-time and "spending a lot of time with his sons Brody and Brandon," while Kris has been staying in Calabasas with their daughters.
Sources close to the couple say there's no plan to divorce just yet because they don't want to mess up their reality show, which makes the family at least $40 million … which sounds like a pretty good reason to stay together on paper for a few more years to us!
Be the first to receive breaking news alerts and more stories like this by subscribing to our mailing list.