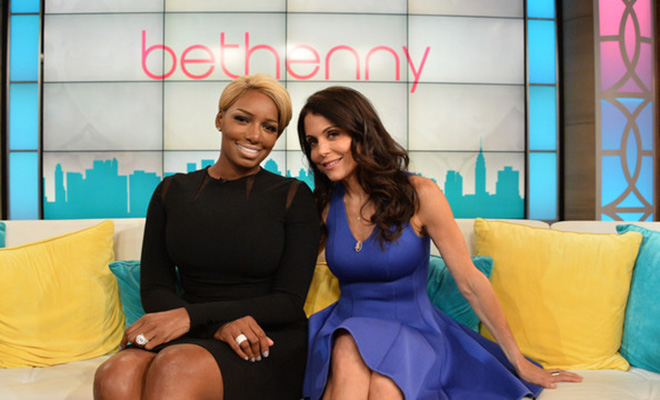 NeNe "VERY RICH" Leakes was reportedly told that if she wanted to do the uber popular daytime talk show hosted by Ellen DeGeneres, she would have to appear on the other daytime talk show she's executive producing.
That would be former Real Housewife of New York star Bethenny Frankel's new show "Bethenny," which had a successful test run last summer, but is currently having a bit of problem with the ratings. Yes, they're on par with the ratings of similar shows that launched last year, but a lot of those have since been cancelled.
So that, of course, means that Bethenny needs better guests. Enter NeNe and the alleged bum-rushing.
A source told Radar: "If NeNe wanted to go on Ellen [in the future,] she had to agree to appear on Bethenny's talk show. NeNe wasn't happy that she was being forced to go on Bethenny's talk show."
I'm not sure why. I mean, Bethenny is still the most successful housewife in franchise history, so…oh wait, I just answered my own question.
The source added, "The booker for Bethenny's show used to work for Ellen, and this was made clear to NeNe that this order was coming directly from Ellen. NeNe didn't want to ruffle any feathers, so she did it."
Smart move, Lady Leakes.
Check NeNe's appearance on Ellen below:
And here's a clip from her "Bethenny" interview:
Be the first to receive breaking news alerts and more stories like this by subscribing to our mailing list.