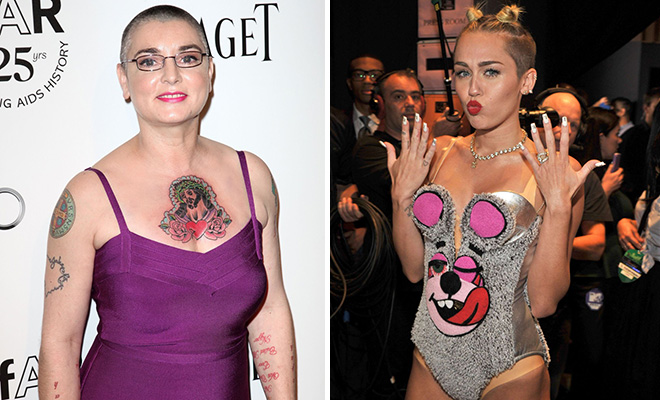 Sinéad O'Connor wrote an open letter to Miley Cyrus "in the spirit of motherliness and with love."
Sinéad O'Connor is reaching out to the pop star following Girl Billy Ray citing her "Nothing Compares 2 U" video as inspiration behind her latest music video, "Wrecking Ball."
The gist of the letter goes as follows (via TIME):
"I am extremely concerned for you that those around you have led you to believe, or encouraged you in your own belief, that it is in any way 'cool' to be naked and licking sledgehammers in your videos," O'Connor writes.

"The music business doesn't give a shit about you, or any of us," she adds. "They will prostitute you for all you are worth, and cleverly make you think its what YOU wanted.. and when you end up in rehab as a result of being prostituted, 'they' will be sunning themselves on their yachts in Antigua, which they bought by selling your body and you will find yourself very alone."
Miley caught wind of it and her response was less than kind:
Before Amanda Bynes…. There was…. pic.twitter.com/6JZPVnunPc

— Miley Ray Cyrus (@MileyCyrus) October 3, 2013
I imagine Miley Cyrus will never be name dropping Sinéad O'Connor again. I'm pretty sure the letter went right over her head.
All Miley cares about is getting attention, be it good or bad. Unfortunately, more times than not, that's all that matters — especially with the way pop culture works now.
That said, actions still have consequences. Miley will eventually catch a clap back, but it'll likely take a very, very long time.
P.S. Miley is butt ass naked on Terry Richardson's site. Click here, if you're into that frail frame.
Be the first to receive breaking news alerts and more stories like this by subscribing to our mailing list.