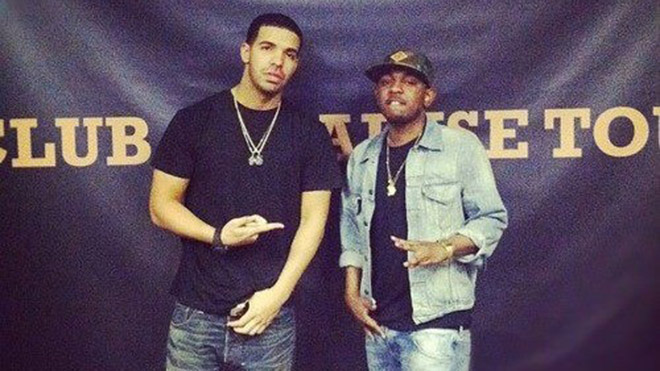 Kendrick Lamar started a ton of controversy when he called out several rappers, including Drake, on his infamous "Control" verse back in August, and it looks like the Compton rapper is trying to add even more fuel to the flame.
This time he's singled out Drake, using his appearance in this year's BET Hip Hop Awards cypher to call the Canadian rapper out for his "sensitivity."
While the 2013 BET Hip Hop Awards doesn't air until later this month (Tuesday, October 15th at 8 pm to be exact), a clip from Kendrick's cypher has leaked, highlighting the moment where he disses Drake. Or at least that's what everyone is speculating.
"Nothing's been the same since they dropped 'Control' / And tucked the sensitive rapper back in his pajama clothes," raps Kendrick. "Ha-ha, jokes on you / High-five, I'm bullet proof / Your shits will never penetrate / Pin the tail on the donkey, boy, you've been a fake."
CHECK IT OUT HERE:
Though no official word has been made regarding whether or not the verse was actually a direct diss to Drake, 'Nothing Was the Same' is the name of Drake's new album, and since everyone makes fun of Drake for being a "sensitive rapper," Kendrick must be talking about him, right?
Meanwhile, Drake is probably too busy celebrating his album moving over 600,000 units in its opening week to be worried about a Kendrick Lamar diss.
Be the first to receive breaking news alerts and more stories like this by subscribing to our mailing list.