It looks like Keyshia Cole and her estranged sister Neffe have kissed and made up!
If you'll remember, Keyshia and Neffe had a big falling out years ago after after Neffe and their mom Frankie decided to do a reality show without informing Keyshia, who they knew was against it.
Before then, things between the siblings were already tense, which we all saw on Keyshia's first BET reality show "Keyshia Cole: The Way It Is." And after Neffe went and did the "Frankie & Neffe" show, that's when things took a turn for the worse and the two drifted further apart amid other serious family issues.
Keyshia didn't invite Neffe to her wedding, and earlier this year, Keyshia blasted Neffe on Twitter, calling her a "leech" over something she apparently wrote about her in a book.
"Bitch talk about me in ya book and wearing the shoes I gave u on the cover? Fucking Bogus!" Cole tweeted at the time.
During a radio interview that month, Keyshia revealed that it would take both Oprah and Iyanla to intervene and solve their issues, but now it appears as though they won't be needing any of that.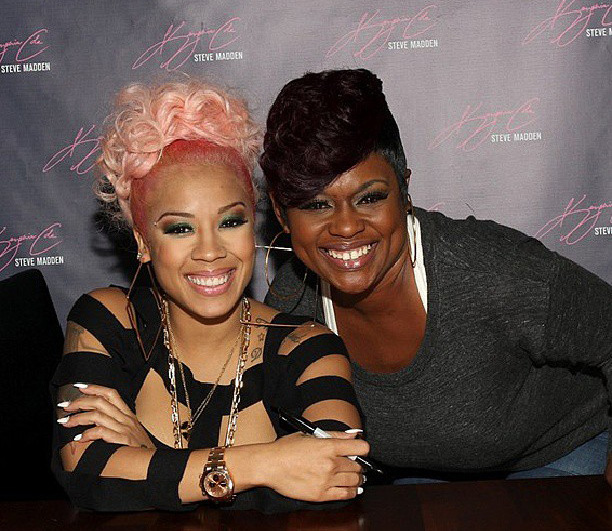 While Keyshia was hosting an in-store event at Lenox Mall in Atlanta for her new shoe line with Steve Madden, Neffe popped up and bought a pair of shoes to support her sister.
The sisters also posed for a photo together, which singer Robert Hatcher shared on Instagram, along with the caption:
This moment made my day!! @IAmNeffeteria & @KeyshiaCole #SistersForever #TogetherAgain #stevemaddencollection Neffe came to support & congratulate her sister & bought a pair of these bangin shoes!!! #GoKeyshia
Neffe also commented on the reunion with her sister on Twitter and on her own Instagram page:
You cannot separate #Blood it's infused with love, power,& the ability 2 move on 2 what God has 4 his children! pic.twitter.com/IuFCKkKGoI

— Neffeteria R Pugh (@IamNeffeteria) September 27, 2013
The only post that make perfect since…… its not over trust that #us…….. My Sister

Family is the only thing that matter my love for my sister to life and nothing ever will come between family @keyshiacolegibson
Be the first to receive breaking news alerts and more stories like this by subscribing to our mailing list.