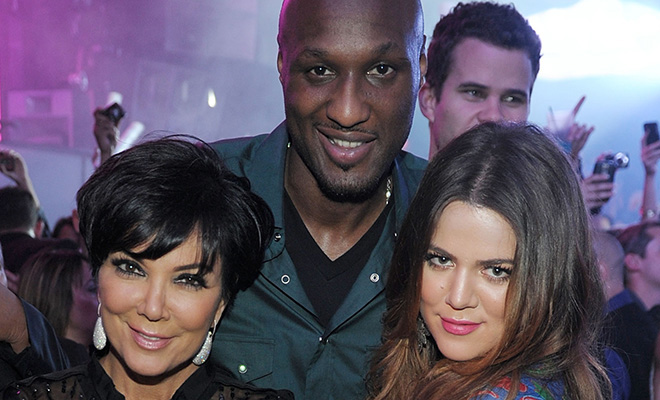 "Insiders" — aka people close to Lamar Odom, Kris Jenner, E! or all of the above — say that the Kardashian matriarch may have set up the pro baller currently battling an apparent addiction to drugs.
By setting up, of course they mean having him commit a very private act as the cameras rolled for Keeping Up with the Kardashians.
An upcoming episode of the reality show will reportedly feature a phone call between Khloe and Lamar. As legend has it, Lamar got a message to hit Khloe on her cell. Once he did, she put him on speaker and — boom — Khloe and her kin hit 'em wit da hee.
Crazy Days and Nights reports:
Lamar Odom got a message to call Khloe Kardashian. He called her and then she told him to call back in a few minutes. Before he called back she was told by Kris Jenner to get to Kris' house so the call could be filmed.

Remember this is the same group of people that said they didn't want to have anything to do with Lamar's situation be on the show. They just wanted to help him. When Lamar called back Khloe put him on speaker which he wasn't expecting and wasn't expecting the entire family to be listening and involved in the call. Apparently they spilled out every rumor and fact that has been going on with him and his affairs and drug use and said if went to rehab they wouldn't use the footage but that if he didn't it would show that they all cared about him and did their best.

Apparently the reason Khloe dropped the Odom from her Instagram was they are making an episode about the couple getting divorced and her changing it was filmed so everything can all fit together.
Lamar may love himself some Kardashians, but when a family's empire is largely built on exploitation and enabling all things invasive, if this story turned out true, I wouldn't be surprised. After-all, it is the Kardashian way.
Be the first to receive breaking news alerts and more stories like this by subscribing to our mailing list.