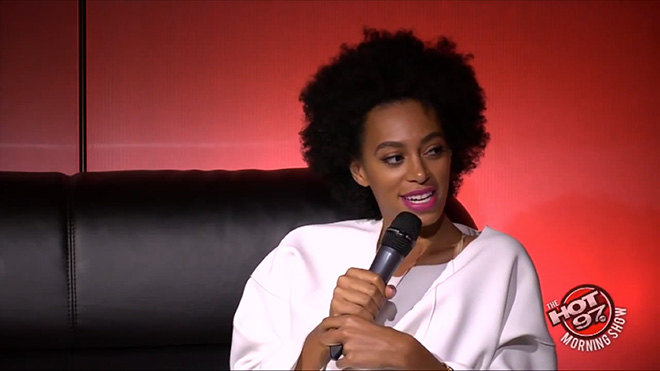 Many a fan gasped and cussed after catching video of Beyoncé being snatched off the stage by an overzealous (okay, crazy ass) fan out in Brazil.
One of those people includes baby sis, Solange, who had a recent radio interview and admitted that she's a little afraid for her big sister at times. That makes two of us … and I'm only kin to Beyoncé in my head.
Solange said of the now infamous overeager tug to Hot 97:
"It was really, really scary to me. She has the whole BeyHive stage so those are like select fans that have followed her. It's really scary. At the same time, I have to give her the hugest props for being that accessible but it is scary, especially as a family member seeing that. She let them go. She said, 'It's okay.'"
Well, she's a sweetie pie for allowing fans that much access to her. That said, some of your people are crazy as all hell.
And during her convo with Hot 97's Ebro and Rosenberg, Solange talked about her early love of Nas, her big brother connection to Jay Z, and she also discussed how she got Bun B and Mannie Fresh to do some choreography in her latest music video.
By the way, don't shade the way she talks. Many of us from Houston talk in slow motion.
If that could work for a Juvenile single, it can work for our speech patterns. No? Shut up. Yes, it can.
WATCH THE FULL INTERVIEW UP TOP!
Be the first to receive breaking news alerts and more stories like this by subscribing to our mailing list.