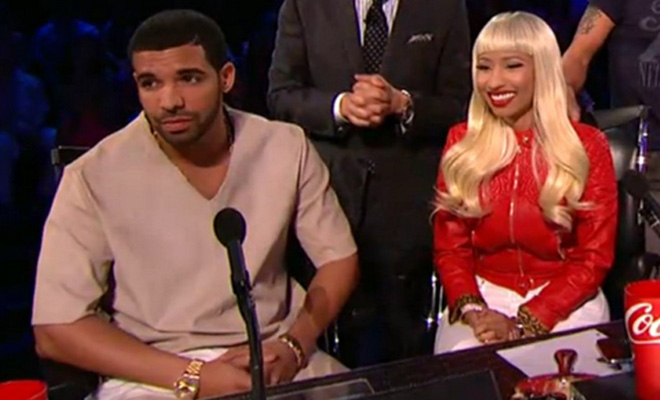 When Young Money's Drake and Nicki Minaj burst onto the scene a few years ago, the dynamic duo were the lieutenants in Lil' Wayne's YMCMB army.
But rumors of discord in the camp between them have been swirling. Drake in particular, has been said to have grown distant from Wayne and apparently Nicki.
Drake confirmed the rift between him and Nicki in "Tuscan Leather," a song from his new album Nothing Was the Same.
"Not even talkin' to Nicki, communication is breakin'/ I dropped the ball on some personal sh–, I need to embrace it," Drake spits.
But in an interview with MTV News, Drake says that he and Nicki are totally cool and that he's got nothin' but love for her. The line in the song, he says, refers to an incident that he claims was his fault that happened about 8 months ago.
"That line in 'Tuscan Leather' isn't exactly where I am in my life right now but like a year ago…eight months, seven months ago, it was how I felt," Drake told MTV News. "I'd done something wrong and I wasn't speaking to her."
Uh huh. That sort of makes sense, since Drake did pay a visit to "American Idol" while Nicki was a judge at her request.
But when the journalist interviewing him asked Drake if he'd gotten Nicki's reaction to the song yet, he said no, and that he hasn't spoken to her recently.
Wait, what? How can you say you're cool with someone but not give them a heads up about a line in your song that addresses a past beef? How do you not make time to pick up the phone to make sure that's squared away?
Notably, Nicki, who is usually Team Young Money, hasn't tweeted nary a tweet in support of Drake's new album.
Instead, she's busy retweeting links to her collaboration with Drake's nemesis, Chris Brown.
Actions speak louder than words, y'all. Something in the milk ain't clean over in Young Money land.
Be the first to receive breaking news alerts and more stories like this by subscribing to our mailing list.