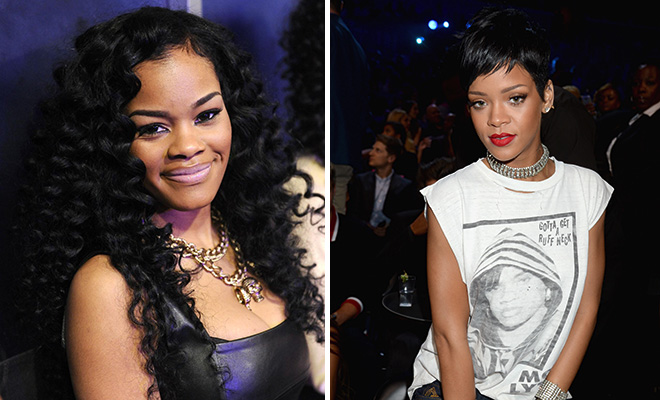 Rihanna loves stirring up mess on social media, and that's exactly what she did the other day when she posted a video on Instagram seemingly mocking Teyana Taylor.
The clip showed RiRi's male hairstylist rocking a curly wig (with a snapback on top) and sneakers, performing Anita Baker's "Caught Up in the Rapture," which seems pretty innocent if you just look at it on the surface.
But here's the thing. Teyana Taylor's hair is curly, and she likes to wear snapback hats and sneakers.
And not only that, but earlier this month, the G.O.O.D. Music recording artist Instagrammed a video of her covering the same song. So yeah, Teyana felt the shade and she had no problems letting Rihanna know it.
Don't play wit me rihanna f-ck all this industry sh-t, YOU & I know each other VERY well. Throwing subs 4 wat? u got my #, don't show off.
y'all could bully everybody else & get away wit that sh-t but that sh-t ain't gone work ova here. so y'all could miss me with that NAVY sh-t
i sing caught in the rapture on IG then she posts her boy singing the same song, the same part, with curly hair and a snap back???
petty is petty and shade is shade, bitch knew what the fuck she was doing.
Of course Rihanna clapped back with her own response, tweeting "I hate broke bitches" and referring to Teyana as an "animal," but she took it even further and temporarily changed her Twitter header to an image comparing her $90 million net worth to Teyana's $500,000.
Screaming in an empty room! #dontfeedtheanimals

— Rihanna (@rihanna) September 24, 2013
I hate broke bitches

— Rihanna (@rihanna) September 24, 2013
If you notice, Rihanna never directly mentions Tayor, but RiRi's personal assistant and BFF Melissa Forde quickly chimed in and made sure she used the "Google Me Baby" singer's Twitter handle in her response to the drama:
@TEYANATAYLOR #HOSHUTDAFUCKUP #BigSeanvoice ????

— Melissa Forde (@mforde11) September 24, 2013
@TEYANATAYLOR ???????????????????????????????????? #DizzzaintwhatYOUwant ????????????????????

— Melissa Forde (@mforde11) September 24, 2013
@TEYANATAYLOR #isFrankenweeniecallinmesicklooking ???????????????????? #callabitchupntellmehowureallyfeelcuntface #FuckUPayme #LILBITCH

— Melissa Forde (@mforde11) September 24, 2013
@TEYANATAYLOR ???????????????????????????????????? #bitchugotabetterchanceseeinME #tourdatesareavailableonline #catchMifucan ????

— Melissa Forde (@mforde11) September 24, 2013
Teyana's response (to both Rihanna and Melissa) went like this:
Don't let twitter get you F-CKED UP!!!!
Melissa & Robyn never been about that life. Them b-tches know wassuppp!
Sh-t I Hate Broke B-tches Too.
You Used To F-ckn With B-tches Knowing They NOT Gon Clap Back #yougonelearntoday #shortywhereyourheartat @rihanna
Let me stop y'all know RiRi punk ass be pressing charges
In response to Rihanna changing her Twitter header background to the net-worth comparison, Teyana wrote:
90 million won't stop u from gettin ur ass beat tho #ImSleepTho yea I'm only worth 4mill & n-ggas so called don't even know "who I am"
Ya net worth & ya body count go neck to neck. #IndustryP-ssy
And Teyana upped the ante even further, changing her Twitter header to an image of her beating up Rihanna, with that infamous picture of Rihanna's battered face (you know, just for good measure):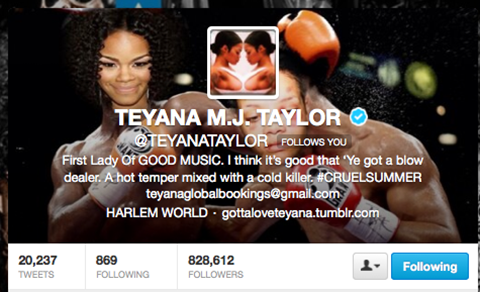 Rihanna eventually changed her Twitter header back to what it was before (probably at the behest of her PR team), and Teyana changed hers too, but this time to a very mean, albeit hilarious, image comparing Melissa Forde to Wesley Snipes: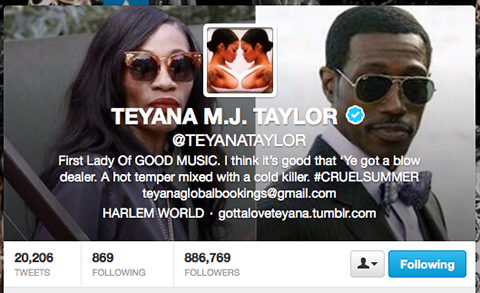 Teyana has since deleted her tweets and she also took down her Twitter header mocking Melissa Forde, but we're still willing to bet the beef is FAR from over.
Be the first to receive breaking news alerts and more stories like this by subscribing to our mailing list.