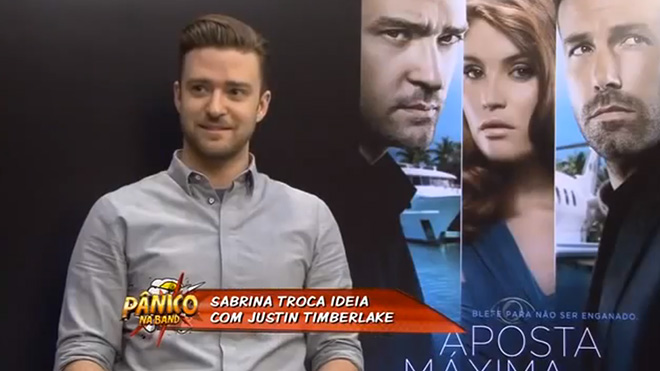 When it comes to interviews that are uncomfortable to watch, Jessie Eisenberg and Bruce Willis are in the D-bag hall of fame.
This week, however, Justin Timberlake proved to be one of the more tolerant celebs in the biz. The actor/singer was in Brazil promoting his latest flick "Runner Runner" when he sat down with Brazilian comedian/TV personality Sabrina Sato to answer a few rather weird, if not indecipherable, questions.
Not only does Sato read her question cards like a robot, she also begins dancing samba in the middle of the interview (she wants to teach Justin how but his handlers shut that down).
Another highlight is when Soto tells the Grammy-winner, "You sing and dance like a black American" as a follow-up to her question about whether or not he's the next Michael Jackson.
But the hands down greatest moment of the interview is when Soto presents the star with an impressively wrapped gift, which after a few slow motion shots is revealed to be a clay cast of her ass. Oh, and one of the cheeks is signed!
To Timberlake's credit, he politely accepts the bizarre gift. Surely he'll want to keep it forever and perhaps even have it displayed in a gold case at his home.
It's important to note that Soto is a comedian and the entire thing could have been a goof. Either way, it wins the award for Timberlake's most awkward interview yet. Yes, it totally trumps that time Mila Kunis had to chew out a reporter (in Russian) on his behalf.
Be the first to receive breaking news alerts and more stories like this by subscribing to our mailing list.