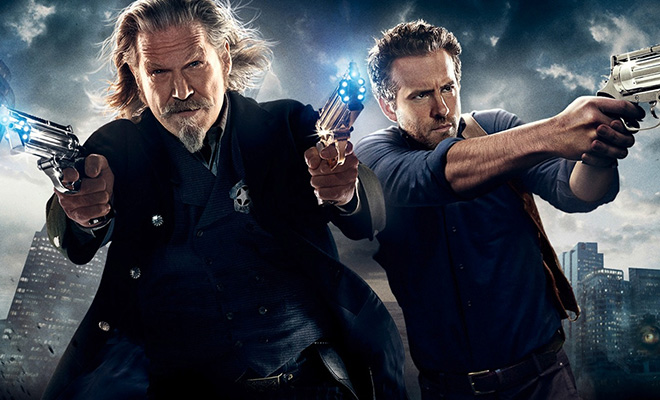 "R.I.P.D" could have been one of the summer's biggest films. Not only does the action flick have a wicked cool premise, it also technically a zombie movie — assuring a built-in fan base was already in place. To top it off, it's got audience favorite Jeff Bridges.
Disappointingly, "R.I.P.D" proved to be uneven and poorly executed. Critically panned, the July release failed to lure audiences–earning back just $68.1 million of its $130 million budget.
In a new interview with GQ, Bridges shared his own dismay over the film.
"I had such a great time working on that movie," Bridges told the men's mag. "I remember what we were doing. I thought: This could be fun to see. And when I saw it, I was a little underwhelmed. For my mind, the studio made some, uh, choices that I wouldn't have made."
The Robert Schwentke-directed film centers on a murdered cop (Ryan Reynolds) who is forced to join an undead police task force and, with the help of his loose cannon partner (Bridges), protect the world of the living.
Assumably, though the conclusion leaves open the possibility for a sequel, Universal will not be developing a follow-up.
Not surprisingly though, the laid back Oscar winner isn't letting "R.I.P.D's" failure get to him.
"It's kind of fun when the movie's coming out. It's like having a horse in the race," he said. "And they're lining up, and they're off! And you're rooting for your horse. And in this case, the jockey fell off the horse and you came in last. Ha ha ha. You know. That happens sometimes."
Unfortunately, the other horses in the race at the time were the massively successful "The Conjuring" and "Despicable Me 2."
Not to worry though, "The Dude" will race again shortly! He'll soon be seen in Seventh Son, alongside Ben Barnes and Julianne Moore, and The Giver, opposite Meryl Streep and Alexander Skarsgard. He'll also lend his voice to the animated fantasy "The Little Prince."
It's easy to see why Bridges was attracted to "R.I.P.D" initially. First, the film is a major departure for him. He seldom takes on mainstream summer blockbusters and was a good match for the story's wacky premise.
"I like bizarre movies, and this one fit the bill," Bridges said of accepting the role during the film's New York press conference. "You know, ones that are surprising. I love to see movies where the filmmakers are ahead of you and you don't know what's gonna happen, and the premise of this one was so bizarre that I thought, 'Oh, yeah. This could be interesting.'"
Bridges' character Roy is one of the few highlights of the story. His flirtations with Proctor (Mary-Louise Parker), the head of R.I.P.D division, are among the better scenes and it's amusing that Roy takes on the form of a supermodel when visiting the living.
Furthermore, the comic book that inspired the film, "Rest in Peace Department" by Peter M. Lenkov, lures the reader into an exciting and imaginative world. Perhaps the script did the same but failed to translate to the screen well.
If, as Bridges suggests, Universal is to blame, it's possible that a significant number of scenes and/or plot points were tampered with during filming with disastrous results.
Either way, the fact that the studio kept critics away from the film for as long as possible shows they knew they had a dud on their hands in the first place.
Bridges' honesty is refreshing given that most stars wouldn't dare speak openly about disliking the way one of their projects turned out. That said, a few high profile stars have come out against their own films.
In a 2008 interview with Vanity Fair, Katherine Heigl referred to her comedy "Knocked Up" as "a little sexist."
"It paints the women as shrews, as humorless and uptight, and it paints the men as lovable, goofy, fun-loving guys," Heigl said. "It exaggerated the characters, and I had a hard time with it, on some days. I'm playing such a [expletive]; why is she being such a killjoy? Why is this how you're portraying women? Ninety-eight percent of the time it was an amazing experience, but it was hard for me to love the movie."
While promoting The Fighter in 2010, Mark Wahlberg told The Hollywood Reporter that Amy Adams was once set to co-star with him in a lackluster project.
"I was such a huge fan of Amy Adams. We'd actually had the luxury of having lunch before to talk about another movie, and it was a bad movie that I did. She dodged the bullet."
Walhberg then revealed that he was referring to M. Night Shyamalan's 2008 thriller "The Happening."
"I don't want to tell you what movie… All right, 'The Happening.' [Expletive] it. It is what it is. [Expletive] trees, man. The plants. [Expletive] it. You can't blame me for wanting to try to play a science teacher. At least I wasn't playing a cop or a crook."
Earlier this year, James Franco candidly told GQ that his 2011 comedy Your Highness "sucks."
"'Your Highness'? That movie sucks," Franco said "You can't get around that."
Be the first to receive breaking news alerts and more stories like this by subscribing to our mailing list.