Today's a big day for iOS users!
If you own either an iPhone, an iPad, an iPad mini (or even the latest iPod Touch) you're probably wondering when you'll be able to download and install the latest iteration of Apple's mobile operating system. Well, lucky for you, you have friends like us who know and are willing to share.
Apple updates iOS virtually every year or so, but this time is different.
Since the very first iPhone was released in 2007, users have basically been using the same operating system. But that all changed when iOS 7 was unveiled earlier this year, showing off a whole-new look, a brand new "Control Center," redesigned home & lock screens, smarter multitasking and hundreds of other changes/improvements.
So naturally, everyone is excited about downloading the shiny new OS today, and now you'd like to know EXACTLY when to be prepared to download it.
Don't worry, we GOT you!
Because this is the biggest overhaul of iOS to date, and likely several hundred million users will be trying to install it, Apple decided against pushing the update to everyone at the same time, because that would of course cause their servers (and probably the Internet too) to crash.
Instead, Apple will slowly push out the release to users gradually in waves, depending on their time zones, which will even out the server load, ensuring that the world does not come to a screeching halt because people can't get their new iOS 7.
Now, before we go any further, don't get your hopes up if you're using an iDevice lower than the iPhone 4, iPad 2 or the latest iPod Touch … because iOS 7 just isn't going to work on your old piece of technology. But if you own either an iPhone 4S or better, an iPad 3 or better, the iPad mini or the fifth generation iPod Touch, you're good!
Oh, and one last thing, before you install, MAKE SURE YOU BACK UP YOUR DEVICE!
So without further ado, here's what time you should expect to download iOS 7 (via iPhone Hacks):
Apple should release iOS 7 at around 10 AM PST/1 PM EST. Apple had released iOS 6 in 2012, iOS 5 in 2011 and iOS 4 in 2010 at that time. If you're wondering what time it will be released in your timezone then we've you covered. Check the table below to find out what time it may get released in your timezone.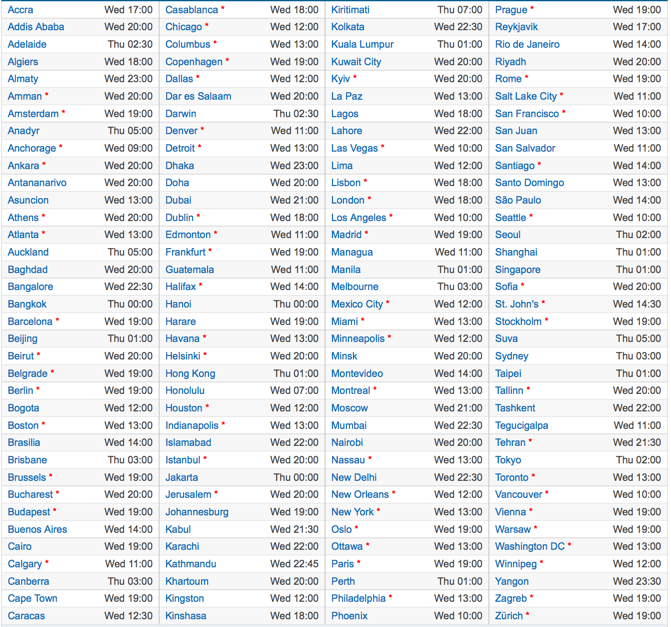 CLICK FOR A LARGER IMAGE
Be the first to receive breaking news alerts and more stories like this by subscribing to our mailing list.