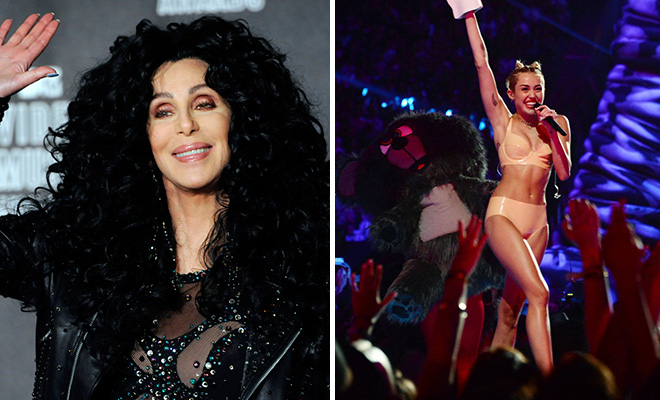 Everyone and their mother has had something to say about Miley Cyrus' hot mess of a VMA performance but there's one person whose critique takes the cake.
In a recent interview with USA Today, Cher gave her opinion on the controversial number, in which the 20-year-old gyrated with a foam finger and failed to keep her tongue in her mouth.
"She can't dance, her body looked like hell the song wasn't great, one cheek was hanging out," she said. "And, chick, don't stick out your tongue if it's coated."
Like many, the 67-year-old isn't disgusted by Cyrus's performance because it was sexual in nature but rather because it was mind-numbingly terrible and "just wasn't done well."
"She could have come out naked, and if she'd just rocked the house, I would have said, 'You go, girl!'" she said. "If you're going to go that far, then think about it before you do it."
We couldn't have said it better. Minus the naked part, because who wants to see Miley Cyrus naked? No one.
Be the first to receive breaking news alerts and more stories like this by subscribing to our mailing list.