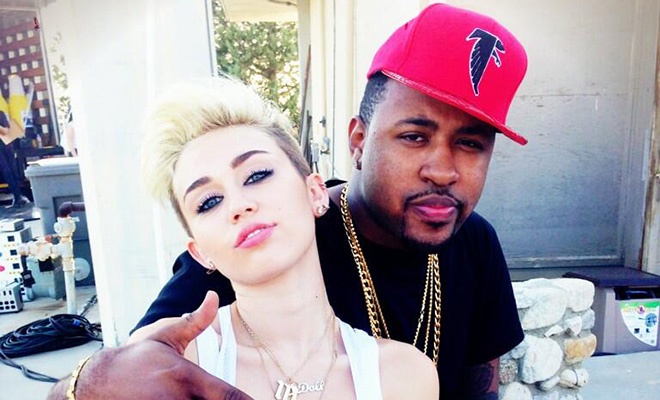 You may not know his face, and you might not even know his name, but if you listen to Hip Hop music in any capacity (even if it's just that random moment you may turn to Shade 45 or Hip Hop Nation on Sirius XM radio), you've heard something Mike WiLL Made It has produced.
The go-to producer for Hip Hop, Mike WiLL Made it has worked with some of rap's biggest names, including Drake, Future, 2 Chainz, Gucci Mane, Waka Flocka Flame, Rick Ross and Kanye West, but he's also collaborated with R&B/Pop artists like Rihanna, Ciara, Brandy and more recently Miley Cyrus.
And now everyone is blaming Miley's affinity for twerking and desire to be a ratchet black girl on her "hooking up" with Mike WiLL Made It. Or at least that's what Star magazine's story about "Miley's New Man" would like for us all to believe.
According to the tabloid, Miley and Mike have "grown close after hours spent in the studio, with no attempts to cover up their budding romance."
A source for the magazine says that after Liam Hemsworth reportedly hooked up with January Jones, "Miley was left heartbroken… so getting together with Mike is her way of revenge."
The insider added, "Everyone knows they're hooking up … Mike is very protective of Miley. It's just understood that she's off-limits."
But as it turns out, that's not the case. Mike Will, who is currently working on his debut album 'Established in 1989, Pt.3' brushed off rumors that he and Miley were doing anything more than making music together in a quick sit-down with Fuse TV:
"That rumor started like two months after we started working together," says the producer. "When you put two fly individuals in the room together and they spend a little time together… I actually have relationships with all my artists because I'm choosy on who I work with. She's just another person I work close with. I'm executive producing her album so I have to spend a lot of time with her."
The Atlanta native also defended Miley's raps in an earlier interview with Complex and said that the only reason people are so hard on her is because she's white.
"The fact that anybody would say anything to her about rapping, the only reason they would say that is because she's White. And I never knew you had to be Black, White, Asian, or whatever to rap, I thought you had to just be talented," Mike WiLL said. "With rapping, that's just another form of expressing your music. Whether you're going to rap, you're going to sing, it's whatever you want."
"People are going to hate," Mike said. "A lot of times, it's the media that is hating and not the real people, the real people are saying, 'What's the big deal?' Anything she does, if she claps her hands three times they will say, 'Oh man, why didn't she clap four times?' If she came out to the [MTV] VMAs and she wasn't twerking and she wasn't doing all that, everybody would've said, 'Oh she was supposed to twerk. Why didn't she twerk? She's not real.' They would shoot her down regardless because she is successful."
"When you are successful you get people to talk, and when people watch you grow up and play a role on Disney, they are going to put her in that box and stay in that box," Mike continued. "She's not that character. She's herself. It is what it is. It's part of the world and country we live in."
He added, "When you are White and successful, it's hard for them to accept you trying to do anything Black. When you are Black and successful, you're supposed to do some real niggerish shit, so they can talk and shoot you down. Or you are supposed to do it the White way and they will call you perfect. She's 20 years old, a fan of music, and extremely talented and she can do anything. She just proved that."
Mike also compared Cyrus to Madonna and said that working with her was a learning experience for him.
"I feel like one thing she taught me was about country harmonies. She put me on different old rock bands and country songs and I put her on Est. 1989, old Gucci Mane mixtapes, all that shit. It was like a history lesson," he said. "I taught her how to be in different pockets. I'm 24, she's 20, we have a long way to go. I feel like she's the next Madonna for real. Madonna is 55? So she's got 35 years to put in work."
It's gonna take way more than 35 years and some "hits" from a hot producer for Miley Cyrus to reach Madonna status, but it's nice that she has friends like Mike WiLL Made It who believe in her that much.
But that's all they are. "FRIENDS," people, OK?
Be the first to receive breaking news alerts and more stories like this by subscribing to our mailing list.