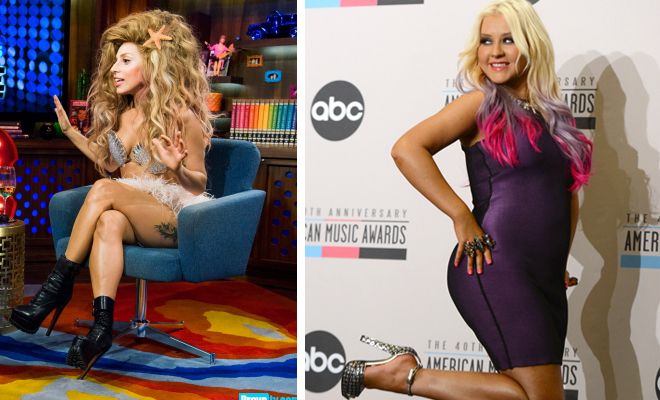 Now that Lady Gaga and her former BFF celebrity blogger Perez Hilton are no longer on speaking terms, Gaga is extending the olive branch to the beleaguered singer Christina Aguilera. If you'll recall, Hilton made it a point to constantly pit the two together as arch enemies.
While visiting Bravo's "Watch What Happens Live" show, Gaga received a question asking her how she felt about Aguilera. Gaga took the opportunity to not only praise Xtina as an amazing singer but also to clear the air between the two of them.
"I just think it's very unfair of anyone to pit another woman against another woman. Especially in this space of music where we're all trying to be taken seriously as females," Gaga says. "I'm so sorry for anything that anyone ever said to her because of my existence and I hope that she never felt any way about because when I was 15, I was singing 'I Turn to You' at the top of my lungs trying to hit all her notes."
Gaga is so sweet. She's on her whole "positivity" campaign so it makes sense that she'd compliment Xtina. But still, she shouldn't worry herself too much. Xtincta dug her own grave, let her lay in it.
And no amount of apologies will make "Bionic" listenable, so yeah. The thought was nice and all but it won't fix much.
Be the first to receive breaking news alerts and more stories like this by subscribing to our mailing list.