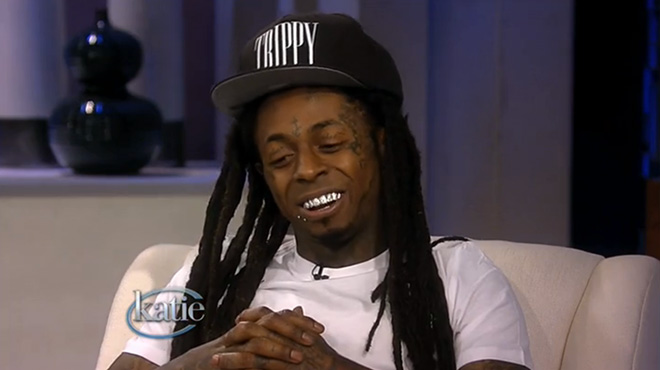 On the season premiere of Katie, Katie Couric interviewed her homeboy Lil' Wayne, and uring their sit down Weezy discussed why his dropping out of high school years ago was actually a good thing. So much so that at the time, his mother even encouraged it.
When asked if he regretted dropping out, Wayne quickly said, "Not at all."  However, he stressed that his young fans needn't follow his lead. He went on to say that his own children will be going to (and completing) high school.
As for why he dropped out, Wayne said his mama made the suggestion given that he had a platinum album to his name and that he needed to arm himself for protection.
Like, she bought him a gun, saw him getting ready for school and realized that it was probably a better idea for him to take the gun out of his backpack and go get a GED.
If you recall, Wayne did do a little time at the University of Houston a couple of years ago. So children, remember: You can't drop out of high school until you have a platinum album.
Since it's 2013, maybe we can knock that down to gold status. Either way, you'd still have to get your diploma and take some psychology classes in college ala Weezy.
CHECK OUT THE INTERVIEW CLIP AT THE TOP
Be the first to receive breaking news alerts and more stories like this by subscribing to our mailing list.