A bodyguard charged with protecting the lives of some of your favorite stars was reportedly tasered to death by cops earlier this week during a bizarre home invasion in the Miami, Florida rea.
South Florida's NBC 6 reports that police were called to a home late Monday night that had been broken into by a naked man who they identified as 43-year-old Norman Oosterbroek, owner of the security company RAD, which has provided protection for world-famous celebs like Beyonce, Jay Z, Lady Gaga, Rihanna and others.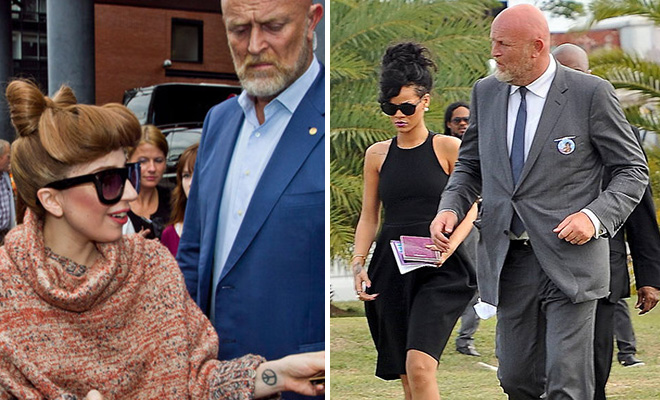 Police said homeowner Christiane Jung heard some strange noises, and when she went to inspect, that's when she found Oosterbroek, who was completely naked and high out of his mind.
At that point, Christiane's husband Markus Jung had become aware of the situation and he confronted Oosterbroek, initiating a violent altercation between the two men.
Police said by the time they arrived on the scene, Oosterbroek was punching Mr. Jung with one hand while gobbling down pills with the other.
Oosterbroek also got aggressive with the officers trying to take him into custody, and in order to subdue him, they shocked him with a taser. He collapsed and was later pronounced dead at a local hospital.
"He was highly violent, uncontrollable and obviously wasn't stable," police spokeswoman Nancy Perez told the Miami Herald.
Police sources said toxicology results were pending, but the man's elevated body temperature was consistent with someone under the influence of cocaine or bath salts. Perez also said a white powdery substance was found on his body.
Detective Javier Baez said of Oosterbroek, "It's possible that he may have been under some type of a narcotic. Again, he was observed swallowing, ingesting some kind of substance, unknown substance that is."
Neighbors said the man had been leasing a home in the same neighborhood, where he lived with his wife and their two small children.
Oosterbroek previously made headlines in 2010 when he protected Jay Z from a crazed fan who had jumped on stage at a concert in Washington, D.C. The stage crasher was caught on tape being grabbed by the six-foot-five, 280-pound man, who tossed the intruder about 10 feet off the stage, breaking both of his legs.
Authorities said Oosterbroek suffered from drug problems and had been in and out of rehab over the years.
Be the first to receive breaking news alerts and more stories like this by subscribing to our mailing list.