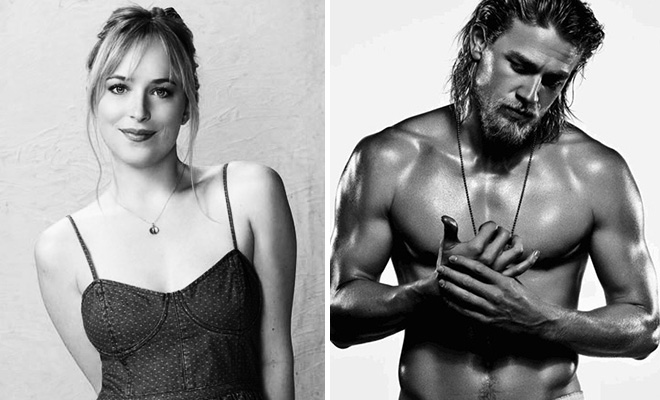 Unless you've been residing in a cave this week, you know that Charlie Hunnam and Dakota Johnson have been cast as the leads in the upcoming, highly anticipated "Fifty Shades of Grey" movie.
You also know that thousands of people oppose this decision and are going to great lengths to make that known. Many have gone as far as signing a petition at Change.org, demanding that the film be recast.
Yes, the same website where you can help "Free Nigerian Activists" or "Condemn Uganda's 'Kill the Gays' Bill" may also be used to express outrage over the fact that the film version of a BDSM tale isn't being developed to your liking.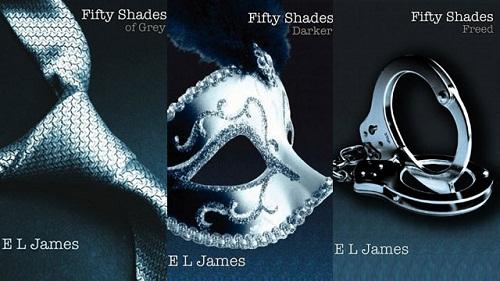 Released in 2011, "Fifty Shades of Grey" and its two followups, "Fifty Shades Darker" and "Fifty Shades Freed" quickly became a global phenomenon.
The story, written by E.L. James, was initially developed as "Twilight" fan-fiction titled "Master of the Universe." It follows a 21-year-old virgin, Anastasia Steele, who is faced with the task of interviewing enigmatic billionaire Christian Grey for her college paper.
An awkward bookworm, Ana is nervous in the 27-year-old's presence, and their meeting proves disastrous.
Humiliated, Ana is determined to bury the incident and move on. That is until he suddenly shows up at the hardware store she works at and purchases things like rope, duct tape and zip ties. No, he's not a serial killer … he's just a guy with emotional issues who has to restrain women when he has sex with them.
A victim of statutory rape, Christian is damaged and has difficulty connecting with women on a human level. For this reason, he recruits sexual submissives rather than girlfriends.
After he presents Ana with a sex contract that outlines what he expects in the bedroom, he finds she's unlike any other woman he's encountered before. And thus begins the ridiculous yet irresistibly addictive trilogy that is "Fifty Shades of Grey."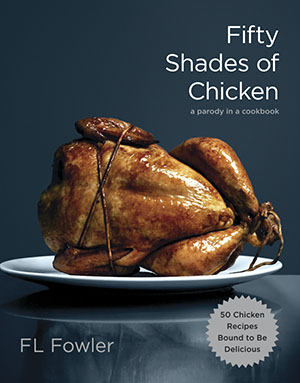 The novel has been translated into 50 languages and has sold more than 70 million copies worldwide. It has inspired a musical parody called "Cuff Me," a porno film, which Universal has taken legal action against, a cookbook, countless imitation erotica, a clothing line, and a "Law & Order" episode.
The media had a field day when it got wind that a few hotels in England had replaced the Bible with it, prompting Stephen Colbert to quip, "That's right, they've replaced the 'Book of Job' with the 'Book of Rim Job.'" Disturbingly, President Obama has been asked about it on multiple occasions.
If that's not enough to give you a sense of just how popular these books are, reports recently surfaced (via the Huffington Post) alleging that they are the most requested books at the prison library in Guantanamo Bay. So it's not surprising that the film adaptation has garnered such overwhelming attention.
Despite the book's graphic sex scenes, which could likely earn the screen version an NC-17 rating, the rights to "Fifty Shades" were purchased by Universal/Focus Features for $5 million and an impressive filmmaking team was gradually put into place.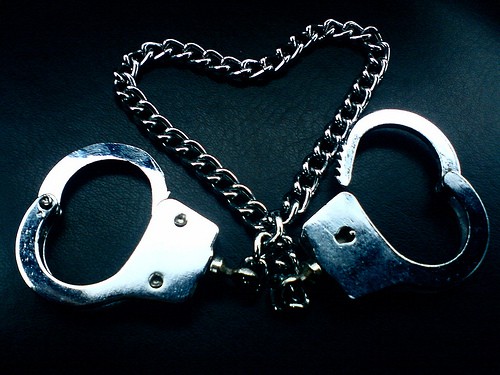 It's not entirely clear why studio execs felt that a story which centers on such a ludicrous premise and has faced a slew of criticism warranted a top-secret development process and the hiring of esteemed visionaries, but that's where we are now.
First, Michael De Luca and Dana Brunetti, the Oscar-nominated duo behind "The Social Network" were tapped to produce the film.
Shortly thereafter Kelly Marcel, who penned the forthcoming Tom Hanks drama "Saving Mr. Banks," was chosen to write the screenplay. And months later, Sam Taylor-Johnson, who helmed the acclaimed indie "Nowhere Boy," was announced as the film's director.
Since plans for a film version were first announced, rumors as to who would take on the roles of Christian and Anastasia ran wild.
It seemed as though each day, a new actor or actress was on the hot list to star in the raunchy story. Countless online polls sprang up, fan made trailers were posted on YouTube, and article after article was written about casting speculation.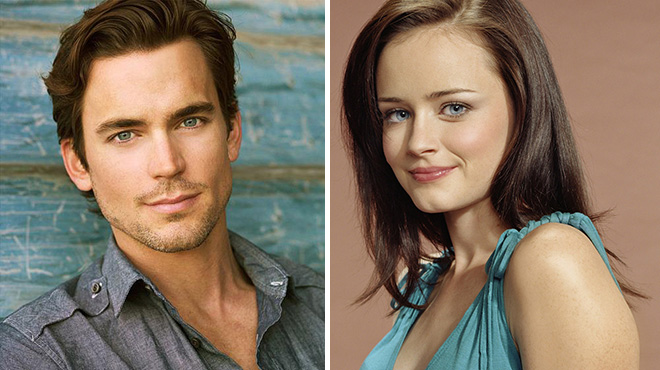 "White Collar" hunk Matt Bomer and former "Gilmore Girls" cutie Alexis Bledel quickly emerged as fan favorites, and someone actually went as far as photoshopping a VERY convincing Entertainment Weekly cover, which announced that he had been cast.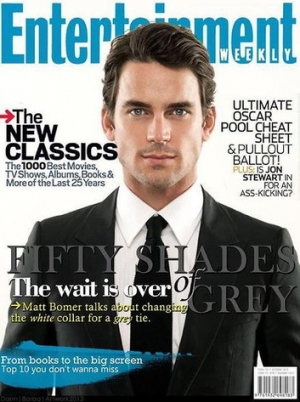 Though it's worth noting that a few idiots thought Bomer, 33, would be a bad choice based on the fact that he's married to a man in real life, because it's impossible for a gay man to "act" like a straight man in a movie. (**Insert obligatory eye-roll here**)
Few seemed to take issue with the the 31-year-old Bledel portraying 21-year-old Ana because remarkably, she still looks like a teenager. Furthermore, she perfectly fits the character's physical description and could effortlessly convey her naivety.
A steamy fan-made trailer featuring clips of Bomer and Bledel's previous work cut together to resemble the plot of "Fifty Shades" received well over 5 million views.
So when E.L. James announced via Twitter on Monday that Charlie Hunnam and Dakota Johnson had been cast, it was to be expected that not every fan of the book was going to be pleased. But it was unclear just how many "Fifty Shades" lovers would protest the studio's decision.
Just days after the highly anticipated news was revealed, a petition was started on Change.org by those that believe Bomer and Bledel should be cast in the flick. As of today, Friday, September 6th 2013, it has over 60,000 signatures, and counting.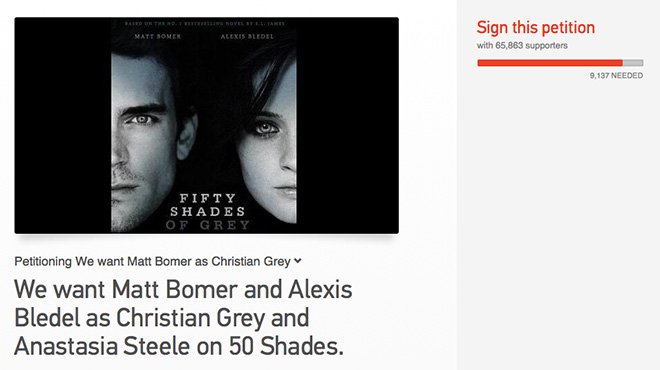 Bomer casually commented on the severe reaction in an interview with ET Online, in which he classily said he is "so grateful for the fans" and "touched," but is "looking forward to seeing the movie with Charlie and Dakota."
It's pretty amazing that a book containing the words "my inner goddess" 57 times has evoked such a passionate and spirited reaction.
Jezebel's Rebecca Rey mocked the intense response with her own petition to encourage the studio to cast Dolly Parton and Burt Reynolds in the film instead.
The casting of Charlie Hunnam is somewhat surprising … that is, until you've viewed these videos!
The British-born 33-year-old certainly has the right physique for the role of Christian and anyone who's seen "Sons of Anarchy" knows he's a strong actor. We're guessing he was cast to bring depth to a fantasy figure. After all, if explored properly, Christian could be a compelling character.
Dakota Johnson has far more to prove though, given that she only had supporting roles in films like "The Social Network" (she was the Stanford chick that slept with Justin Timberlake) and "21 Jump Street." Also, kids of celebrities (she's the daughter of Melanie Griffin and Don Johnson) usually prompt a few sneers.
Also, sidebar, but did you know that 75,000 people signed a petition protesting the casting of a then-unknown Robert Pattinson as Edward Cullen in "Twilight" back in 2008? Now, Pattinson is one of the highest grossing actors in the world. So, there's that.
Last month, another high profile petition appeared on Change.org urging that Ben Affleck be replaced as Batman in Zack Synder's upcoming "Man of Steel" sequel, and though the petition received over 90,000 signatures, it didn't have any effect on Affleck's role in the action flick.
But though we're living in a world where sites like Twitter unfairly determine how the public feels about things, it doesn't look as though the public's outcry is going to have an effect on the "Fifty Shades" film.
On Monday, producer Dana Brunetti took to Twitter to defend the casting decision that has been made.
"There is a lot that goes into casting that isn't just looks," he posted. "Talent, availability, their desire to do it, chemistry with other actors, etc. So if your favorite wasn't cast, then it is most likely due to something on that list."
On Wednesday (Sep 4), the Hollywood Reporter revealed that Ryan Gosling was E.L. James's first choice to take on the role of the kinky entrepreneur but he reportedly wasn't interested.
Second up, was "Tron: Legacy" actor Garrett Hedlund, who proved to be a distinguishing talent in last year's "On the Road," but sadly, for audiences, the charismatic blonde "couldn't connect with the character."
The easy on the eyes British TV actor Christian Cooke was also in the running, but was deemed too much of an unknown to headline the project.
As for Ana, a number of qualified candidates were considered for the project. Rising "The Spectacular Now" star Shailene Woodley was purportedly at the top of the list for the role of the recent college graduate turned submissive, but the in demand actress has a full schedule at the moment.
"Like Crazy" beauty Felicity Jones was also in the running but was ruled out because she's 29. Disappointingly, the talented Imogen Poots and Alicia Vikander, best known for her riveting turn in "A Royal Affair" were also passed over.
It's highly likely that some of the courted talent was reluctant to appear in a film that demands explicit sex scenes and nudity. According to The Wrap, the film could call for full-frontal nudity.
Furthermore, there's the possibility that the film will spawn a trilogy, meaning that starring in the film may be a three part commitment.
"Fifty Shades of Grey" is set to begin filming later next month in either Vancouver or Los Angeles, but apparently not in Seattle where the story is set.
The film is set to hit theaters on August 1, 2014, so by then we'll know how this all turns out.
Be the first to receive breaking news alerts and more stories like this by subscribing to our mailing list.