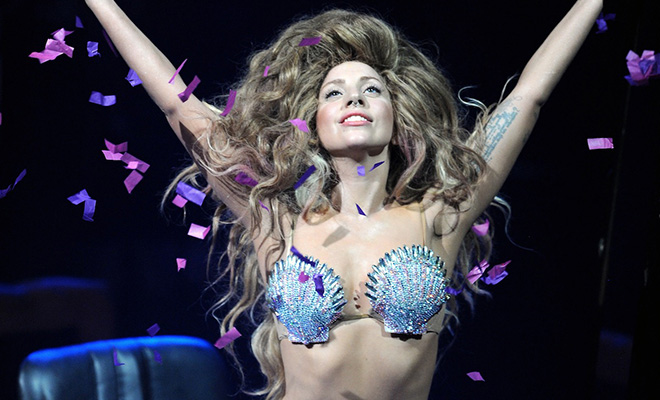 In a very candid interview with The Guardian, Lady Gaga opened up about not exactly living up to the massive expectations her initial wave of back-to-back to back no. 1 singles created.
As noted, Gaga's single "Marry The Night" was her first in years not to crack the top 10. Moreover, "Applause" is doing okay stateside, but hasn't toppled all its competition here or abroad.
However, a frank Gaga acknowledged the difference between her chart performance then and now, but managed to put things in perspective. Good for her, as you chart lusting fake A&R reps online irk the living hell out of me with your obsession.
A few weeks ago, Gaga tweeted a Michael Jackson quote that read: "The bigger the star, the bigger the target". Does she feel persecuted? "Yeah, for sure I do," she replies without hesitation, her skintight jumpsuit parping with her every movement. "Yes! I certainly feel that at this time it's almost as if people are surprised they haven't already destroyed me."

She puts a straw to her mouth and takes a dramatic slurp. "It gives them a sense of pleasure when they believe that they've destroyed me or taken me down. It's almost entertainment for people to poke fun at Lady Gaga, but at the very same time they have no idea the album I've made. They have no idea what I put into this, they have no idea the work that I've put behind my performances and what I do. In fact, people have no idea what it really took for me to get here. So it doesn't bother me, it's just an interesting observation of where we are as a society."

Before being asked about it, she brings up the success or otherwise of Applause: "It's literally not even been two weeks since my first single came out and it's all, 'She's over', or because I'm not No 1 yet, 'She's finished'. People focus less on the music and focus more on how the music's doing; how it's faring from a numbers perspective, from a financial perspective. If you think I give a damn about money then you don't know me as an artist at all." She adds: "I think that once you've had a few No. 1s in your career that you've kind of proven yourself and I don't feel the need to prove anything anymore."
While I somewhat feel Lady Gaga on the "they pray for my downfall" tip, her handlers played a pivotal role in creating the standards used to measure Gaga's success.
If you recall, her label dropped the price of Born This Day to .99 cents to help the album move a million copies in the week. Why? To make her look like a megastar.
Keeping that in mind, though some people do need to give the woman a break, they're just taking cues from the little monsters who market her and her music.
Be the first to receive breaking news alerts and more stories like this by subscribing to our mailing list.