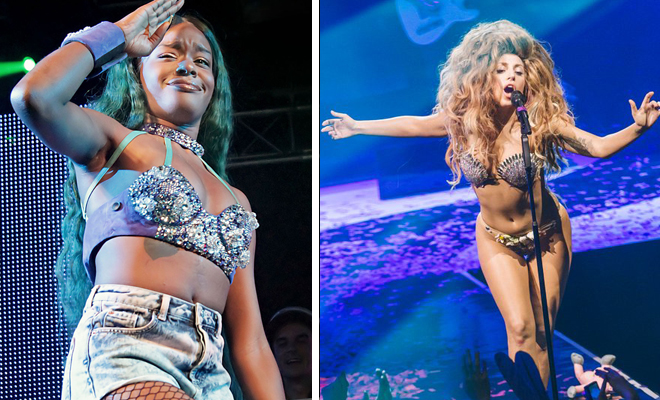 It's another day and another high-profile celebrity beef for upstart femcee Azealia Banks.
At one time, she was pegged as the next big thing after her trendy cut "212" caught on with the fashion world, but since then, Azealia has managed to burn countless bridges with big names in music.
At first, her grievances with people like Lil' Kim seemed legit. Kim, after all, is notoriously quarrelsome and difficult as well.
But now, Azealia is coming for Lady Gaga and the Little Monsters aren't having.
Gaga opened the iTunes Festival in the UK by performing 8 songs from her upcoming studio album "ARTPOP". Just like she did in the "Applause" video, she recreated the look of Venus de Milo, which depicts the Roman goddess of love being born from the sea and emerging from a seashell.
Banks, took offense to Gaga's "mermaid" look and lashed out on Twitter sarcastically thanking her for the free promo.
https://twitter.com/AZEALIABANKS/statuses/374283578986598400

She then followed up that tweet with a cynical poll about how uncreative Lady Gaga has become.
https://twitter.com/AZEALIABANKS/statuses/374283578986598400

At one point, Gaga and Banks were pegged to collaborate on a track or two for Gaga's new album. Obviously, those plans went sour. Perhaps the bitterness stems from Banks' burned bridge with Gaga's manager Troy Carter. He briefly represented Banks before he abruptly announced he was no longer involved in her career.
Whatever the reason for the angst, Banks would do well to tamper her frustrations and focus on her music. Where IS that debut album that was supposed to drop back in 2012? After battling with Iggy Azalea, T.I., Lil' Kim, Rita Ora and A$AP Rocky, people are pretty much sick and tired of her constantly ranting, complaining and just being bitter in general. She's about to go out like the female 50 Cent before she even gets to achieve 1/3 of his success.
Be the first to receive breaking news alerts and more stories like this by subscribing to our mailing list.