Maybe I'm going crazy, maybe I'm going blind, maybe I'm out of my mind, but is Robin Thicke playing a good ol' fashioned game of grab-ass with the girl in this photo? Yes, Robin Thicke is DEFINITELY playing grab-ass with the girl in this photo.
Robin, you slick dog, you!
Everyone and their mama is talking about this picture, which was taken at a VMA after-party in New York, and then passed around all over the Internet after the girl in it — 36-year-old socialite Lana Scolaro — posted it on Instagram.
But after Thicke's raunchy performance with Miley Cyrus, should anyone really be surprised?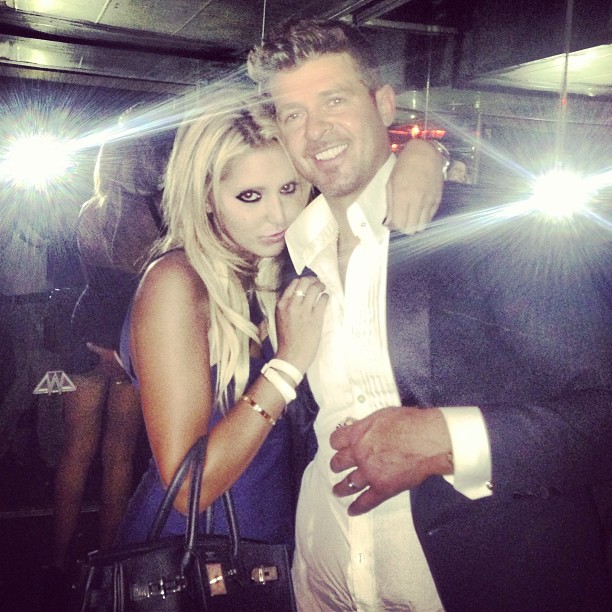 If you're just focusing on Thicke and the girl's faces, you probably have no idea what I'm talking about.
However, if you look at the flash in the left corner, and move your eyes down a bit, you can clearly see that he is grabbing that lady's butt, which makes for a very funny picture … considering dude is married.
But once again, compared to all of the groping and grinding action that went during his performance with Miley Cyrus earlier that night, this is pretty tame. Besides, Robin Thicke a source tells HollywoodLife.com that the whole thing was a joke:
"They both knew that the mirror was there after taking another picture and he did it as a joke," the source reveals. "It was his version of bunny ears — it just looks worse than it really is. But there is no trouble with him and his wife and he isn't cheating."
Haha. "Bunny ears." Good one.
Robin's just lucky he married a woman who isn't insecure about her man. Some guys can't even leave the room without being questioned by their girlfriends about their fidelity, and Paula Patton just lets her husband literally do whatever the hell he wants. That's real love right there.
Be the first to receive breaking news alerts and more stories like this by subscribing to our mailing list.