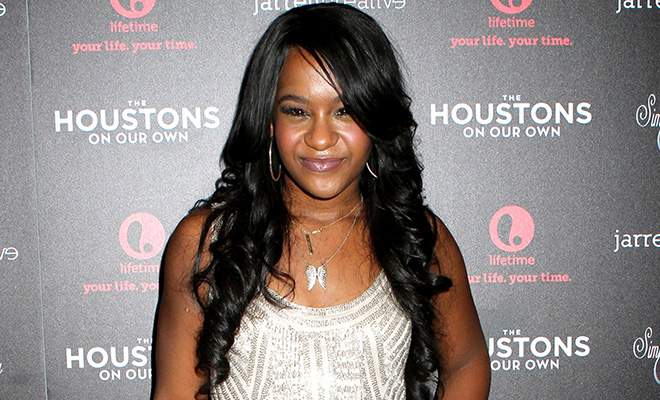 Everyone sighed deeply upon hearing word that Bobbi Kristina Brown would be doing the British reality show Celebrity Big Brother. After all, that's the kind of show people like Michael Jackson's less talented siblings go on, not the daughter of the legendary Whitney Houston.
Not much was known as to why Bobbi Kris decided to abruptly abandon her 400K pay day and not do the show. I was just hoping she came to her senses and realized who in the hell she was. Then there was that whole awful and exploitative Lifetime reality show.
However, it's now rumored that Bobbi Kris left the show due to producers pressing her to discuss the death of her mother. Rude. As. Hell. I mean, I get why the producers would want that, but it feels despicable all the same. Iyanla, Fix Bobbi Kris' Life.
From The National Enquirer:
Bobbi Kristina was on board until the producers told her they expected her to talk about her drug-plagued mother's death.

Bobbi Kristina, called Krissy by her family, was so enraged she burst into tears, said an insider. "Krissy yelled at them, 'Do you want a picture of her naked dead body lying on the hotel's bathroom floor too?'

"She said she's trying to move on with her life, and she stormed off."

Krissy still misses her mother terribly. The singer's sudden death in Las Vegas on Feb. 11, 2012, shocked the nation.

Whitney's daughter, herself allegedly plagued by drug problems, was set to join the British show along with 12 others. Participants are isolated from the outside world for three weeks, while cameras capture their behavior. While there, they compete in various contests as participants get voted out of the house until one winner is left.

But Krissy, whose beloved mom would have turned 50 on Aug. 9, has voted herself out of "Big Brother," said the source.

"She has her own showbiz aspirations, but this project didn't seem right for her. She told the producers she wants nothing to do with them."
Be the first to receive breaking news alerts and more stories like this by subscribing to our mailing list.