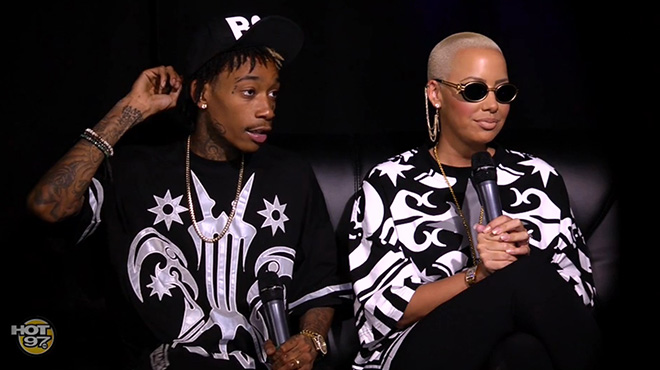 Amber Rose and her hubby, rapper Wiz Khalifa, stopped by "The Angie Martinez Show" on Hot 97 to talk about their recent wedding, Amber's pre-wedding twerk video, and of course, the third thing they love most besides each other and their child: weed.
Oh, and we found out that Amber is now being managed by Miley Cyrus' mama. Random as all hell, but not surprising given the recent events concerning Miley, right?
Quotes below (by way of Rap-Up):
On their wedding:

Amber: It was better than what I thought it was gonna be.
Wiz: It was beautiful. I'm so proud of my baby for what she did. She put all of that together and everybody's ranting and raving over every little detail.
Amber: I don't think you understand how much I love this man. I cried my eyes out.

On Amber's pre-wedding twerk video:

Amber: He peer pressured me into putting that video out completely and I was like, "Fine, I'll do it." And the next day Cam was like, "Oh shit. You put out a freakin' twerk video."
Wiz: I was just like, "What did you do that for?" I was just like, "Is that what you really want to do?"

On Wiz's love for weed:

Amber: I've never seen him not high. I don't know what he's like not high.
Wiz: I wasn't high when we signed our marital papers.
As far as Miley goes, when asked about her VMA performance, Amber said, "We love Miley. She's a real sweetheart. Miley's mom is managing me now."
Apparently, it's not a music related project, but she should try again with that, though. Her Ke$ha impersonation on "Loaded" wasn't too bad.
Love that Amber.
WATCH AMBER ROSE & WIZ KHALIFA'S HOT 97 INTERVIEW UP TOP!
Be the first to receive breaking news alerts and more stories like this by subscribing to our mailing list.