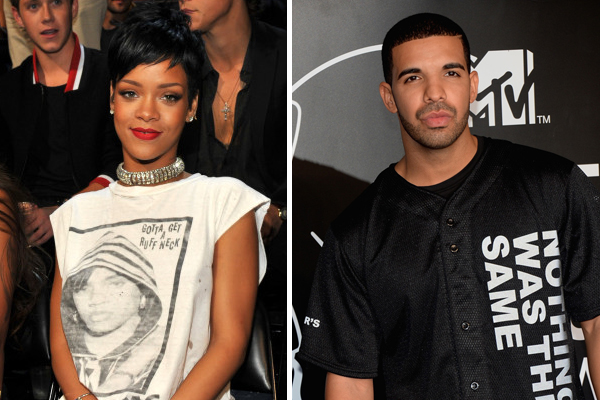 If it looked like Rihanna was having a good time during Drake's VMAs set, it might be because everything is all good between the two.
The Barbadian and the Canadian were recently spotted at the restaurant Sons of Essex recently. While they didn't arrive together, once they spotted each other, they made nice.
Page Six reports:
Sources said Drake, who was there with another female pal, arrived at 10 with a group of 10 and sat in back. An hour later, Rihanna came in alone. Spies said Rihanna sat across from Drake, and the group ordered a round of shots. "They were in very good spirits and were dancing and singing. Drake and Rihanna seemed to be just friends enjoying a fun night out." Fans tried to take photos, but bouncers eventually stopped that. Rihanna and Drake, who collaborated on Drake's song, "Take Care," left separately, but the group left a generous $500 tip.
Restaurant-goers and fans confirmed Page Six's reports with tweets announcing Drihanna's rekindled friendship.
chillin on the LES w/ @hashtagnatalie with @rihanna and @Drake a few feet away. It's a good, good night with my big! pic.twitter.com/TC4oB6TLEy

— Megumi Smisson (@MegumiSmisson) August 24, 2013
Big personal milestone: Drake's bodyguard just kicked me out of my seat at Sons of Essex. Apparently Rihanna was feeling the kid's vibe.

— Paul Szurek (@pabloszurek) August 24, 2013
Even the damn chef was pressed to let the world know that Drizzy and RiRi were in the building:
Rihanna and Drake in the House @SonsofEssexNYC by Chef, Chris Coleman @COLEMANCOOKING

— Chef Chris Coleman (@COLEMANCOOKING) August 24, 2013
Post-VMAs, the blogs are buzzing that RiRi and Drake left Jay-Z's VMAs after party minutes apart, implying that the two cozied up for some post-show body language.
In related news, Chris Brown is still mad at the world and tweeting through it. But in all seriousness, good for those two or whatever. Hopefully Drake won't try to slut shame her the way he tried in the past ("No Lie") or bitch and whine about how hurt his heart was after she dismissed him.
Rihanna probably never gave a damn to begin with, but it sure was annoying, so don't do it again, Aubrey.
Be the first to receive breaking news alerts and more stories like this by subscribing to our mailing list.