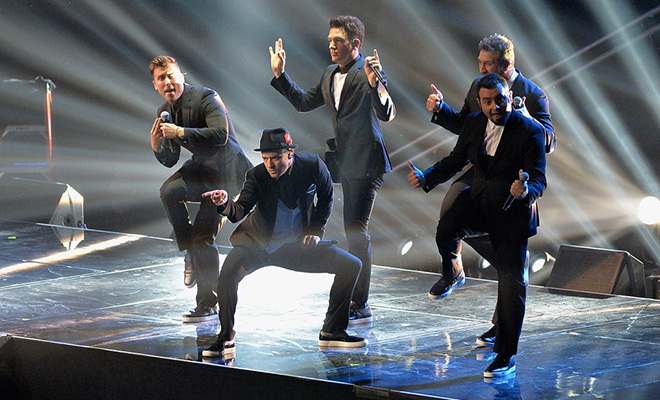 Although it might upset Usher, Robin Thicke and Chris Brown, Justin Timberlake solidified his position as the "President of Pop," as Jimmy Fallon put it during the 2013 VMAs.
While the comparison to Michael Jackson's "King of Pop" title might raise eyebrows, their ascensions from boy band to solo stardom are strikingly similar.
MTV wanted to honor Justin for his two decades of entertainment and artistic success so they let him have the floor for 15 whole minutes. This gave Justin the opportunity to run through his impressive catalogue of hits, going as far back as "Senorita," to his latest single "Take Back the Night."
But let's be real. The main attraction was the long-awaited reunion with his former bandmates from *NSYNC. Thankfully, Justin didn't disappoint.
Maybe he took pointers from Beyonce's Destiny's Child reunion at the Super Bowl, but it's clear that Justin realized that after running from his boy band past for the last 10 years, it was time to acknowledge JC Chasez, Joey Fatone, Chris Kirkpatrick and Lance Bass' contributions to his success.
Unfortunately, not all was "in sync" on stage. Lance was noticeably off with his timing and JC Chasez tried it when he belted out an uncalled for run at the end of their performance.
Whether this reunion was a one-off or the start of a more long-term reunion remains to be seen. But really, with a fruitful solo career firmly established, it wouldn't take anything away from Justin to help his former bandmates out with a revenue-generating reunion tour.
That is after her knocks out the promotion and release of the The 20/20 Experience 2 of 2.
WATCH JUSTIN'S PERFORMANCE WITH NSYNC UP TOP
Be the first to receive breaking news alerts and more stories like this by subscribing to our mailing list.