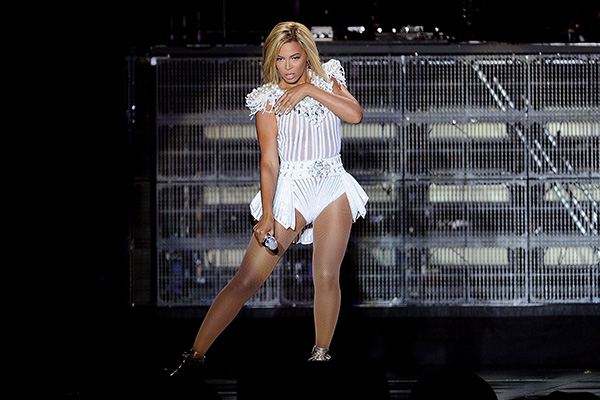 Beyonce may be one of the biggest stars in the world but that doesn't mean tardiness is excusable. Well, at least not in the U.K.
Wenn (via the Huffington Post) is reporting that Queen Bey took the stage at Hylands Park for the V Festival in Chelmsford, England on Sunday but was 20 minutes late (though other sources say she was over a half an hour late). Of course this did not please fans, who had to wait for the star in the pouring rain, and the crowd reportedly booed the "Crazy in Love" singer when she did hit the stage for her headlining performance.
According to U.K.'s Metro, some audience members also found fault with the sound during Beyonce's set and decided to walk away from the concert early.
Sure this seems like a great story, an audience not taking any shit from a Grammy-winning phenom. But, when was the last time you went to a concert that started EXACTLY on time?
Also, if it was pouring rain, wouldn't some technical adjustments possibly be needed to be made to assure that no one on stage was electrocuted before the crowd's very eyes? And couldn't that account for why the show's start time was pushed back 20, maybe 30 minutes? We thought so.
Besides, Rihanna sometimes makes her fans wait hours for her to show up on stage, so the Bey Hive should count their blessings.
NME has published B's set list, and it seems like she had a kick-ass show despite the "jeers." According to the site, she played for roughly 70 minutes.
'Run The World (Girls)'
'End Of Time'
'If I Were A Boy'
'Get Me Bodied'
'Baby Boy'
'Diva'
'Naughty Girl'
'Party'
'Why Don't You Love Me?'
'1+1'
'Irreplaceable'
'Love On Top'
'Crazy In Love'
'Single Ladies (Put A Ring On It)'
'I Will Always Love You' / 'Halo'
Based on the footage shot during the show, the crowd seemed to be pretty into Beyonce's set and her brand new haircut. Though, wasn't it much shorter not one week ago? You can also tell during the opening number that fans are slightly less animated than usual but it's clear from their response to "Crazy in Love," that she won them over later in the night.
CHECK OUT SOME PICS & VIDEO FOOTAGE HERE:
Be the first to receive breaking news alerts and more stories like this by subscribing to our mailing list.