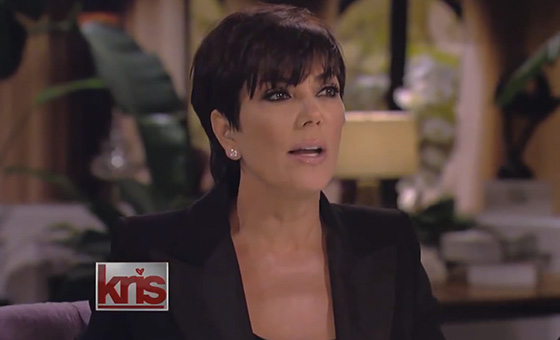 Kris Jenner is speaking out about President Barack Obama's unflattering comments about Kim Kardshian and Kanye West.
Many will remember that earlier this month, the president of the United States weighed in on the overblown ridiculousness that is Kimye.
"We weren't exposed to the things we didn't have in the same way that kids these days are," he said. "There was not that window into the lifestyles of the rich and famous. Kids weren't monitoring every day what Kim Kardashian was wearing or where Kanye West was going on vacation and thinking that somehow that was the mark of success."
Naturally, Mama Jenner believes the world revolves around her and her daughters and the fact that Obama doesn't agree has her miffed.
On her talk show "Kris," she took the time to praise West and her daughter and seemingly attempted to martyr them.
"I find it so odd that he's picking on Kim Kardashian and Kanye West. Well, Kanye West, first of all, doesn't go on vacation. Ever," Jenner said. "And Kim Kardashian is the hardest-working young lady in the world. She never sleeps, she never stops, she never slows down and works so hard for what she's got."
She also took the time to…wait for it…criticize the president.
"I bet the President has some friends with 10,000 square foot houses and that he wouldn't mind going over there… when [he was] asking them to have a party for [him] while [he was] campaigning for dollars to run for president," the 'Keeping Up with the Kardashains' star said.
Why doesn't she stick to what she's good at talking about? Like her countless plastic surgery procedures or her (cringe-worthy) sex life?
Personally, I'd like to see the president stop humoring these idiots all together. Surely he has better things to do than to add fuel to a meaningless, annoying fire. That way, the Kardashians and Kanye West won't have the satisfaction of thinking that the leader of the free world even gives a shit about them.
Be the first to receive breaking news alerts and more stories like this by subscribing to our mailing list.