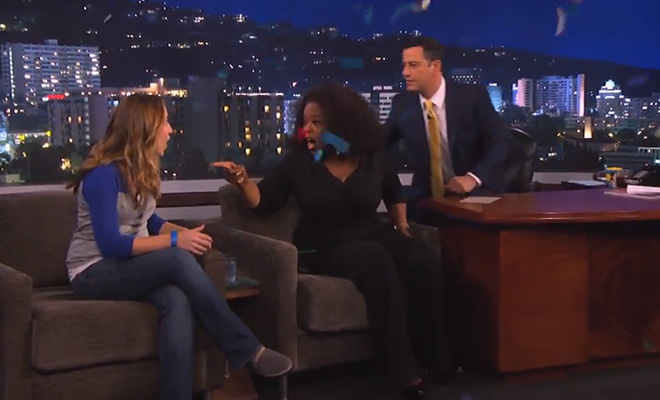 One of the many downsides to the "Oprah Winfrey Show" going off the air is that we no longer get to watch her give away free stuff and see people freak out about it. But last night, "Jimmy Kimmel Live" viewers had the chance to relive one of the media mogul's most memorable moments.
Oprah stopped by the late night talk show to promote her new film "The Butler" and in the middle of her interview with host Jimmy Kimmel, she suddenly "just got the feeling again. You know, that feeling."
She then singled out a woman from the audience and invited her up to the stage, where she hilariously proclaimed "You, you get a car! You get a car!"
This was of course met with thunderous applause and was made complete when confetti dropped from the ceiling.
So who was the lucky winner? It was a woman named Britney, who was escorted outside the studio where her brand new Ford Fusion Energi Hybrid awaited her.
"I started to get this under control. Every once in a while, Jimmy, it just happens, especially when I skip lunch," Oprah joked about the surprise.
As USA Today notes, she kept the joke going when she tweeted:
.@jimmykimmel THAT was fun! I don't know what came over me! #yougetaCar

— Oprah Winfrey (@Oprah) August 15, 2013
The talk show queen famously gave every single audience member a brand new car back in 2004 during the season premiere of the "Oprah Winfrey Show."
In "The Butler," in theaters Friday, Oprah stars alongside an all-star cast that includes Forest Whitaker, Terence Howard, Lenny Kravitz, Cuba Gooding Jr., and Jane Fonda. Inspired by a true story, the historical drama chronicles a butler who served at the White House through eight presidencies. Oprah stars as his hard-drinking wife, who may or may not have a wandering eye.
Be the first to receive breaking news alerts and more stories like this by subscribing to our mailing list.