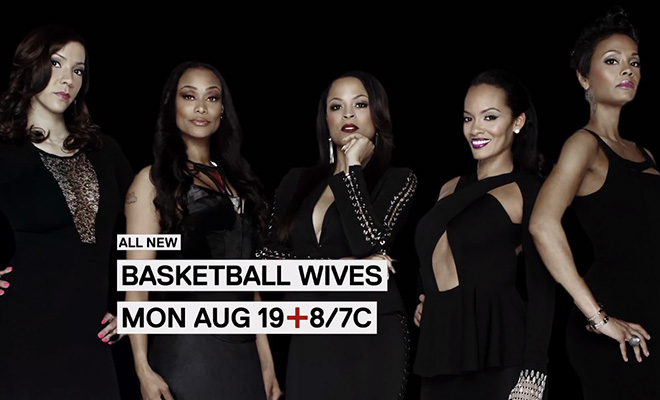 Everyone on the cast of "Basketball Wives" needs paychecks, so VH1 decided to bring the show back for another season just to keep the economy flowing and what-not. Jobs, people. JOBS!
In the fifth season of VH1's "Basketball Wives," which premieres next Monday, August 19th, we see Evelyn Lozada dealing with the break-up from her husband of only a weeks, former NFL star Chad "Ochocinco" Johnson. And we're also introduced to a new cast member, former NBA Stephon Marbury's wife of nearly one year Tasha Marbury, who seems like she's there to shake things up a bit this season.
Meet the Cast of "Basketball Wives" Season 5 (PHOTOS)
In one clip from the newly released Super Trailer, notorious troublemaker Suzie Ketcham forms an alliance with Tasha, but it's shortlived, as the pair quickly begin to clash over petty drama. During an argument, Suzie and Tasha get all up in each other's faces, and Suzie is seen lunging at Tasha as she tries to walk away.
But before their dispute, you would have thought Suzie and Tasha were best friends. When the two were discussing Lozada's love life following her divorce from Chad Johnson, Tasha said, "Maybe she could wear a helmet on a date?" and Suzie giggled.
In August 2012, Chad infamously headbutted Evelyn during a domestic dispute just weeks after their lavish wedding, which was filmed for their spin-off show, also to be aired on VH1. Lozada sustained head injuries, which ultimately led to Johnson's arrest, and VH1 canceled their reality show before it even got a chance to air.
Somehow, Evelyn later found out about Suzie's response to Tasha's comment and she was not happy. "You thought that was funny?" Evelyn said to Suzie, who was visibly shaken and tried to save face by saying that she knew Tasha was "joking." (Riiiight)
But that's just a small piece of the "drama" you can expect on this season of BBW, as it looks like the show's HBIC Shaunie O'Neal and Tami Roman are going to clash this season too, which is a bit unexpected, considering they're BFFs.
"I feel like the sh*t is going to hit the fan at some point … defnitinely between Shaunie and Tami," Evelyn can be heard saying in a confessional clip.
Maybe this season won't be so boring after all?
WATCH THE "BASKETBALL WIVES" SUPER TRAILER AT THE TOP!
Be the first to receive breaking news alerts and more stories like this by subscribing to our mailing list.