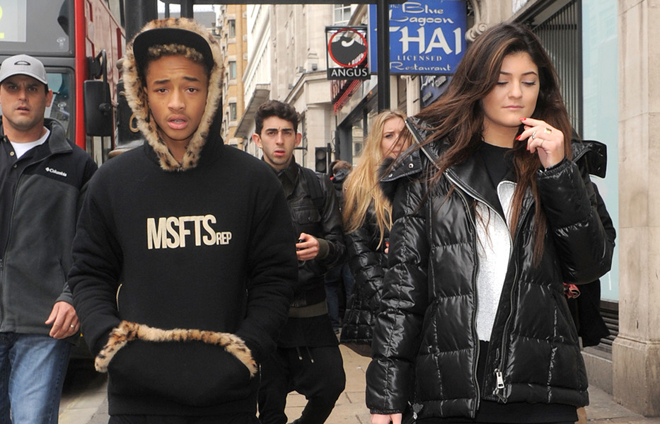 The puppy love between Kim Kardashian's little siter, Kylie, and Will and Jada's son, Jaden, has been heating up. Word on the street has it that Will and Jada aren't too keen on their son becoming the next Kanye West, if you know what I mean.
I feel like Stabler and Benson are monitoring my computer for even discussing this, but you know, I only am here to serve the people.
That said, there's an interesting rumor – okay, if you're a teenager this might pique your interest – that claims Will Smith and Jada Pinkett Smith don't want their son, Jaden Smith, dating one of Kim Kardashian's sister.
That sister would be Kylie Jenner, whom Jaden is reportedly dating. Somewhere, Kris Jenner is preparing a statement damning these reports while yelling upstairs, "KYLIE! Girl, you better make this work!"
Yes, girl. You sure better. Do you know how long it's taken big sister to land the famous black man of her dreams? You've got one early. Don't drop the ball the way she did.
Anywho, the story, according to Rhymes with Snitch, goes a little something like this:
Kylie Jenner and Jaden Smith's rumored young love is facing its first test: Kylie can't win over Jaden's A-list parents, Jada Pinkett-Smith, 41, and Will Smith 44. While the 15-year-old duo, who sparked romance rumors last March, seem to have the Kardashians' blessing – Jaden spent the Fourth of July with the reality TV family – the Smiths aren't as welcoming. "Will and Jada think the Kardashians' cheeseball image could harm Jaden's growing film career," reveals the pal. "They aren't forcing him to break things off, but they are hoping this teenage romance will fade."
Have they heard Jaden's skateboard meets Q-Tip's flow style of rap? I'm pretty sure if he has a cheeseball image, it's not because of Khole Kardashian Jr.'s fault.
Be the first to receive breaking news alerts and more stories like this by subscribing to our mailing list.