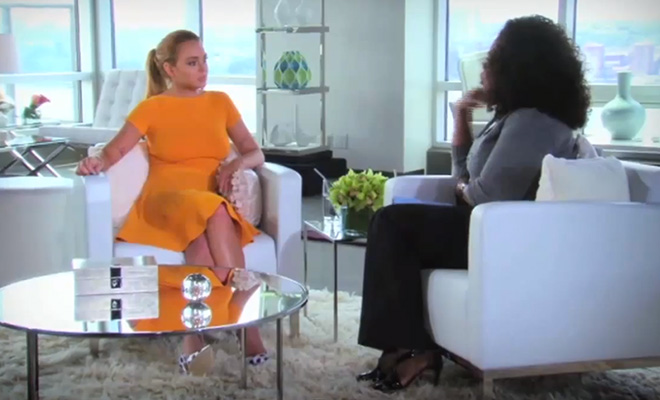 Portions of Lindsay Lohan's highly anticipated interview with Oprah Winfrey are continuing to filter in and we can't stand to wait another second for the entire thing to air.
The latest clip of the talk show Queen's highly publicized sit down with the actress features the 27-year-old admitting that she is her "own worst enemy."
"Do you think you can turn it around? . . . What is it you're addicted to?," Oprah asks.
"I'm my own worst enemy, and I know that," Lohan responds.
As we know, Oprah has the power to make even the most arrogant public figures admit to wrong doing (see: Lance Armstrong), so it doesn't come as much of a shock that Lohan is owning up to her many mistakes.
Now we've never been known for our positive pieces about the troubled starlet (see: every other post we've done on her) but it must be said that she looks fresh and well-rested in the footage. She also seems pretty sincere. This probably has something to do with her recent completion of a mandated 90-day stint in rehab.
Lohan's latest "comeback" has been so strong, that reports of her partying in an L.A. hotel were somewhat dismissed and even met with skepticism.
Her rep also released a statement claiming that although Lohan did hang out with The Wanted group member Max George, the rest of the story is fabricated.
"Although Lindsay did visit her good friend Max, this is otherwise a completely false story," the rep said.
You can catch Lohan's hour-long interview when the latest episode of "Oprah's Next Chapter" airs on Sunday, Aug. 18.
Be the first to receive breaking news alerts and more stories like this by subscribing to our mailing list.