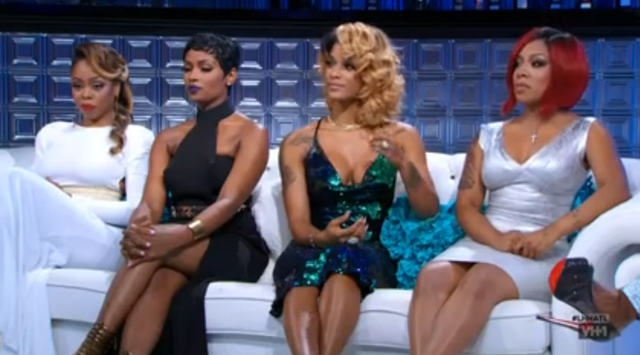 In the first part of the epic "Love & Hip Hop Atlanta" reunion, the lovely ladies of ATL get down to business and pull no punches.
It's hard to say if anyone on LHHATL is actually friends. Frankly, I've seen starving crocodiles treat each other with more deference and kindness than what I see go down between Joseline and Mimi.
In fact, Joseline and Mimi waste NO time getting up in each other's faces. Within the first few minutes of the reunion, Mimi is hollering about Joseline being a "slut monkey" and Joseline is swearing at Mimi for being a "throwback bitch" after Joseline accuses Mimi of being jealous of her. Her evidence? Mimi went and got fake tits to look like her.
Before you know it, Joseline's famous Puerto Rican temper reaches that boiling point and she's up on her feet ready to snatch wigs and scrap. Thank god for LHHATL's security team, but truth be told, Mimi and her She-Hulk ass might've bodied Joseline.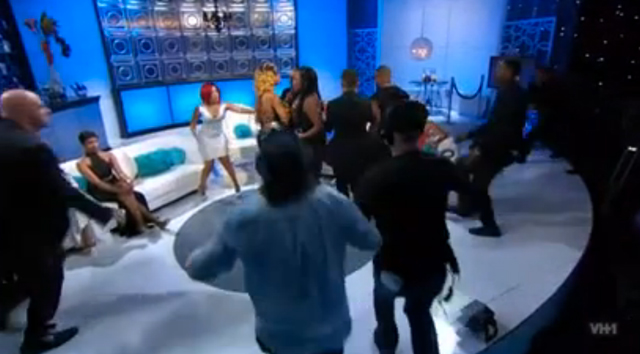 I don't know if Mimi is taking testosterone injections or what, but homegirl can put some Barry White-type bass in her voice and she can flex like a Mr. Universe contestant hopped up on 'roids.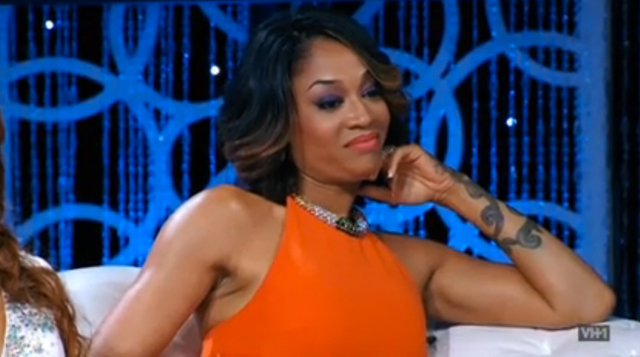 Seriously, she probably used to throw Stevie J into a deadly headlock back when they used to bump uglies.
As funny as Joseline's jabs at Mimi are, it really doesn't make sense at how angry she is toward Mimi in general. As Mimi repeatedly points out, Joseline "won." She got Stevie. So why is she so difficult when it comes to Mimi?
Joseline claims it's because Mimi drops her daughter Ava off and doesn't acknowledge her. But the kind of petty back and forth that Joseline engages in goes way beyond that. It stems from the insecurity in her relationship with Stevie. Which isn't all that secure if Mimi is to be believed.
During the reunion, Mimi announces that Stevie has been texting her repeatedly, propositioning her for sex. Joseline looks hurt in the eyes but her mouth tries to reassure the audience that she's okay with Stevie's philandering.
"I thought it was typical Stevie," she says. But his two-timing ways are worth it because Joseline believes she can change Stevie for the better.
"I'm trying to change him and make him become a better man because I love him and he's a great guy," Joseline says.
Good luck with that. If you can't make a hoe a housewife, you definitely can't turn a rat into Prince Charming.
Instead of recognizing this fact and moving on with her life, Joseline instead prefers to be stuck in the vortex of Stevie's twisted Sister Wives fantasy with Mimi.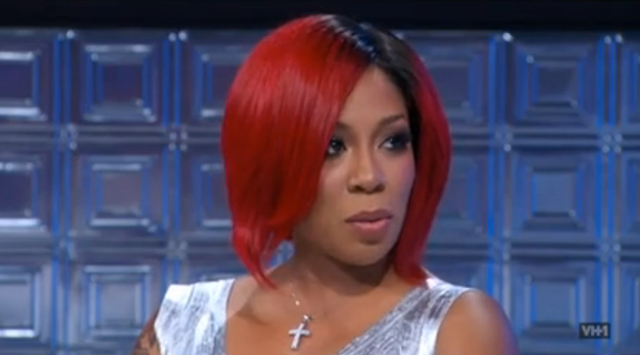 K. Michelle Buries All 20 of Her Hatchets
Who knew that K. Michelle would be the cast member to show the most growth by the end of season 2?
Yes, the ratchet red rooster managed to successfully broker peace with all of her former enemies, including Rasheeda, by the end of season. She even made amends with Karlie Redd, and really, Karlie Redd deserved to be left out in the cold all by herself for trying to give K. Michelle that wack-ass diss track on her birthday.
"I'm good, I ain't finna fight about Karlie Redd over no diss record cause it wasn't played on not one station," K. Michelle says.
Well played, ma'am. Well played.
As for that volatile temper of hers, K explains that her violent emotional outbursts are her way of dealing with pain and bitterness.
"That situation with Rasheeda, I didn't hate her. I think I was more hurt than anything," K. Michelle says.
She must've read a Dr. Phil book or something. This is a whole new K. Michelle that I'm not ready for.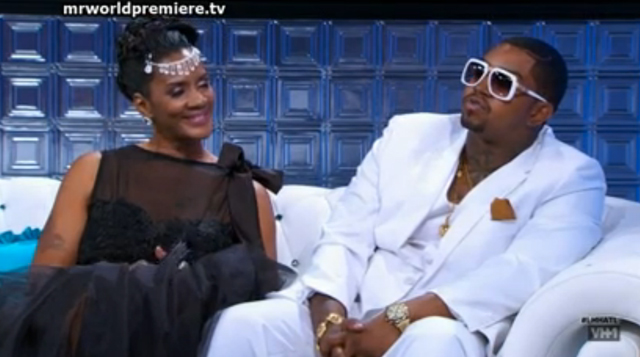 Healing the Wounds of Scrappy and Erica's EOE
Last season, Erica and Scrappy got engaged at the reunion show. This season, these two couldn't be farther apart.
For their segment, Scrappy and Erica were joined by their respective mothers. Momma Dee looked like she snatched the Wicked Queen's outfit from Disney on Ice. Mignon, Erica's mom, was doing her best to look classy, but she just looked like a female Gremlin that had slicked her hair down and squeezed into a Kardashian dress from Sears. Michelle Obama she ain't, y'all.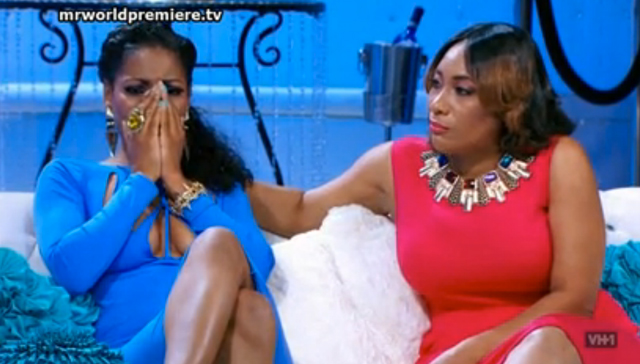 At one point during the segment, Erica bursts into tears because she still loves Scrappy but she knows his lazy ass will never be no good.
While it sucks that Erica's heart keeps getting broken, I really wish these two would get a new storyline. Their relationship is more dried up than a riverbed in Death Valley. They make up to break up and there's really not a whole lot of humor along the way. They moan and bellyache about all of the history between them and cry about Imani.
They ain't got no business being together, so they should just make that arrangement permanent and keep it moving. Scrappy can do more with his reality TV show spotlight than just crawl behind Erica like a lost puppy.
Speaking of Scrappy, this bamma needs to hit the studio. How did he let Joseline put out new music before he did? SMH.
On another note, Shay really needs to find something else to do with her time. Working the Scrappy angle for a storyline in LHHATL just ain't workin' for her no more. Maybe she can score a female version of Flavor of Love and kickstart her stagnant TV career.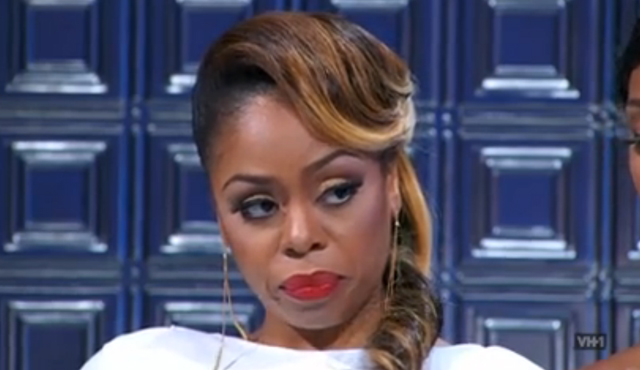 Cause this sourpuss face pouting on Mona's couch ain't gonna get her nowhere.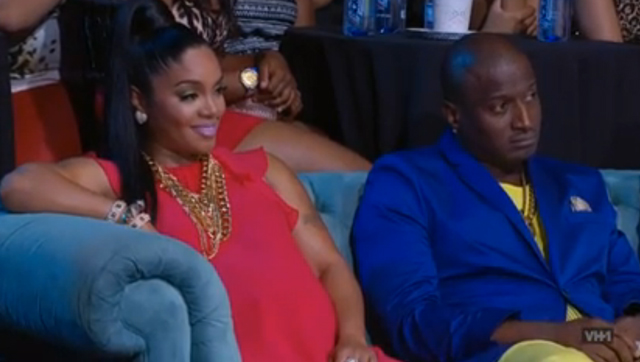 Coming Soon: Baby Carter Frost
Rasheeda pulled off somewhat of a miracle this season by going from an underwhelming aspiring rapper to a triumphant woman scorned. Kirk's infidelity and philandering helped people rally FOR Rasheeda instead of rallying to laugh AT Rasheeda.
The very pregnant Rasheeda made it to the reunion and she exclusively revealed to Mona that the baby was a boy and that she and Kirk were naming him Carter Frost. Clearly, his name was selected in homage to Beyonce/Jay-Z.
Right before we could dig in to Kirk and Rahseeda's drama, Mona cut the camera time and promised to pick it up for part 2.
Mona and her tricks are so transparent, but hey, they keep us coming back for more. See ya next week!
Be the first to receive breaking news alerts and more stories like this by subscribing to our mailing list.