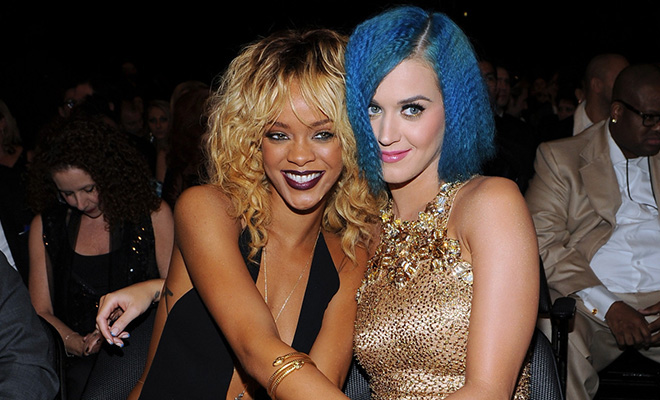 Katy Perry went there when she was asked about her friendship with Rihanna in the latest issue of Elle UK magazine. The flirty pop star and preacher's kid expressed her love of some Rih-Rih, but doesn't seem too keen on those surrounding her. Poor dat.
Katy explained:
"I love her [Rihanna] and every time I see her, I'm reminded of the light that she has. There's a lot of dark in this business. I know a lot of people out there with the most detrimental entourages — they are the root of their demise. It's really unfortunate but you can't save these people. My days of celebrity saving are over."
That sounds like a subtle way of saying Rihanna's friend Melissa and the crew need to get on somewhere and quit enabling her to roll in the grass and party in the snow. Two points if you catch both references. Also, I should add the word "allegedly." You know, to cover my ass.
"Sources" close to Rihanna — aka the guilty parties — have responded to the interview by way of Hollywoodlife.com:
"Rihanna doesn't need to be saved by anyone. The man upstairs is to whom she owes everything. That's who brought her here and that's who she's leaving with!"
This is stupid and deflecting. Yes, the universe controls us, blah, blah, blah. At the same time, there's a thing called accountability, which homegirl seems to lack. That is, given her penchant for starting her shows late or not at all, plus that whole being carried out of concerts 'cause she's too drunk thing we saw a few weeks ago.
But hey, God's got it!
Anyway, the guilty parties continued:
"Everybody has an opinion about something. Ri's grown and will walk through fire by herself if it means it will make her stronger. Rihanna knows how to cut ties and cut them so sharp that your teeth bleed! She knows how to get rid of toxic people in her life. She's not a baby and has everything she could ever want or need in life. She's happy and thankful."
Happy people aren't allegedly high all the time. Unless your name is Snoop Dogg or Wiz Khalifa.
Match goes to Katy Perry.
Be the first to receive breaking news alerts and more stories like this by subscribing to our mailing list.