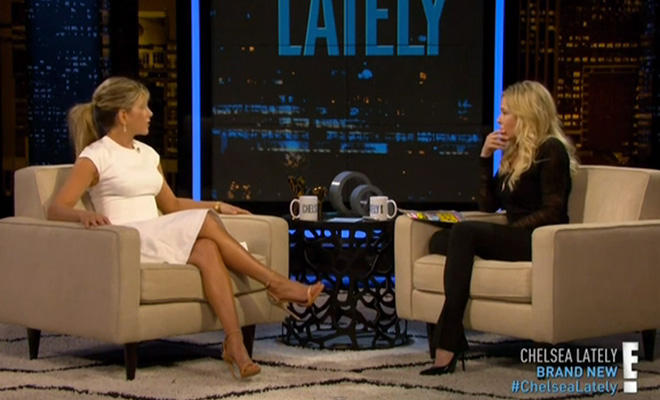 Jennifer Aniston made an appearance on "Chelsea Lately" Wednesday night (Jul 31) to discuss her latest film "We're the Millers," in which she plays a stripper posing as a preppy mom.
During the interview, the show's host (and the actress' friend) Chelsea Handler brought up the difficulty of keeping information about Aniston out of the press.
"Katie Couric was asking me on her show about your wedding and I had to act like I didn't even know you were engaged because I didn't know that was out," Handler said. "Then she was like, 'Well, everyone knows about it!' So, I felt really stupid."
Aniston then snapped back, "What's Katie Couric? Is she a legitimate journalist? Is she getting tabloidy? Wasn't she on the Today show?"
"She was on the Today show," said Handler. "She got a demotion to her own show."
Sorry to say Jen, but Couric is a legitimate journalist. She's worked as a journalist for 34 years and has had contracts with NBC, CBS, and ABC news. Oh yeah, and the Emmy-winner was famously the first female anchor to host a weekday news segment.
The 56-year-old has worked as a correspondent for "60 Minutes" and CNN and has served as a host for the "Today" show, "Good Morning America," and "CBS Evening News."
Let's not forget that she was one of the reporters that stayed on air as the 9/11 attacks were playing out and had the task of informing America during the worst attack on U.S. soil. Her infamous Sarah Palin interview earned her the Walter Cronkite for Journalism Excellence and many believe that the interview was one of the reasons that John McCain lost the election.
Last year Couric signed a $40 million contract with ABC to host "Katie," her own talk show.
Next time Aniston is promoting one her she shitty movies, she may want to pull back on the insults.
Be the first to receive breaking news alerts and more stories like this by subscribing to our mailing list.