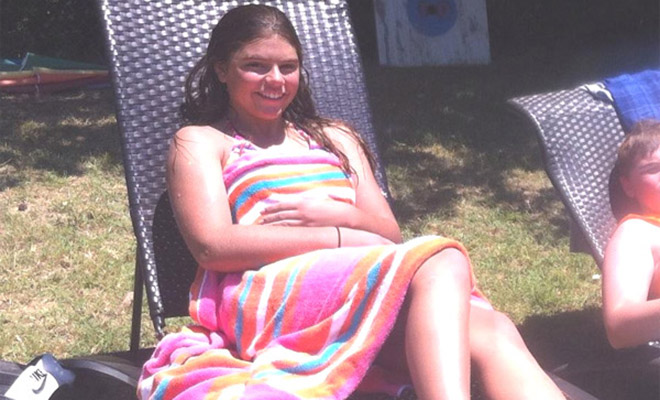 A 12-year-old girl from Arkansas is struggling to survive after being diagnosed with a condition known as "primary amoebic meningoencephalitis," which is reportedly caused by a brain-eating amoeba parasite.
Health officials believe Kali Hardig contracted the rare form of parasitic meningitis while swimming at Willow Springs Water Park in Little Rock, Ark.
According to reports, just a day after swimming in the water park, she was admitted to the Arkansas Children's Hospital, where she remains in critical condition after being put in a medically induced coma.
The girl's mother Traci Hardig said (according to the Christian Post), "I couldn't get her fever down. She started vomiting. She'd say her head hurt really bad. She cried, and she would just look at me and her eyes would just kind of roll."
The Arkansas Dept. of Health released a statement concerning Hardig's case, and explained that the amoeba that caused her particular kind of meningitis, called Naegleria fowleri, can be found in warm streams, rivers, lakes and soil, and is usually contracted by entering through the nose while underwater.
Though they are extremely rare, Naegleria fowleri infections are almost always fatal, and only two people out of the 128 that have been infected in the United States between 1962 and 2012 have survived, according to the U.S. Centers for Disease Control and Prevention, and Kali's family are hoping that she's the third.
Willow Springs Water Park is reportedly made from a sand-bottomed lake, which makes it prime for microbes and other bacteria, and two cases have likely originated from the park since 2010. This has prompted the ADH to ask the park's owners to shut the establishment down, and they agreed to do so.
"Though the odds of contracting Naegleria are extremely low, they are just not good enough to allow our friends or family to swim," David and Lou Ann Ratliff said in a statement. "For the thousands of people who love Willow Springs, we will be taking this time to determine the feasibility of installing a solid bottom to the lake. We will not ever reopen as a sand bottom lake … We covet your prayers and our Willow Springs family will continue to be in our thoughts and prayers."
The CDC's website offers the following tips for summer swimmers:
Hold your nose shut, use nose clips, or keep your head above water when taking part in water-related activities in bodies of warm freshwater.
Avoid putting your head under the water in hot springs and other untreated thermal waters.
Avoid water-related activities in warm freshwater during periods of high water temperature and low water levels.
Avoid digging in, or stirring up, the sediment while taking part in water-related activities in shallow, warm freshwater areas.
Be the first to receive breaking news alerts and more stories like this by subscribing to our mailing list.