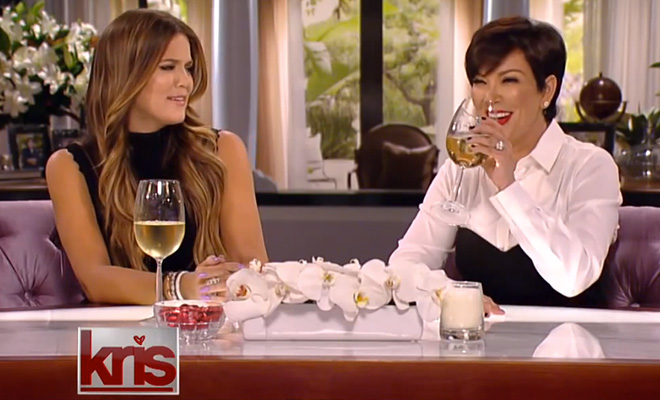 Like many, I couldn't care less about Kris Jenner's new talk show "Kris." Unfortunately, that means we've missed out on noteworthy moments, like the one the Huffington Post reported on Friday.
Apparently, back on July 19, Kris Jenner and Khloe Kardashian admitted to faking orgasms and joining the Mile High Club. The two were playing a game called "I Never," in which an act is mentioned and whoever has participated in said act has to take a sip of their drink.
When an audience member said, "I've never faked 'The Big O.'" Jenner and Kardashian (who was a guest co-host) sipped their drinks.
"Everyone has faked 'The Big O' at some point," added Khloe. "You're like, 'Oh my God, what did I get myself into?' or like, 'Dude, hurry it up. We got work in the morning.'"
Things got even more revealing during the next question when an audience member said, "I've never joined the Mile High Club," Jenner sipped her drink.
She then proceeded to tell a lengthy story detailing her raunchy experience. "I go to the bathroom… We were so sneaky, 007," she explained. "I go, then he goes. The door closes… So we come back to our seats and we were like two Cheshire cats; we thought we got away with something."
"We were sitting in our seats, [the] plane lands," she added. "We thought, 'That was really fun.' As the plane is going down the runway, to the tarmac getting to the gate, the guy picks up the PA and says, 'Thank you for flying with American Airlines today, ladies and gentleman. And we'd just like to give a big congratulations to Kris and Bruce Jenner… for joining The Mile High Club. And we'd like to give them a bottle of champagne.'"
Yikes! How embarrassing!
Call me crazy, but when has it ever been a rule of "I Never" to provide the details of why you sipped your drink? Guess that's the case when you're playing the game on a TV show.
Funnily enough, Jenner's youngest daughters Kendall, 17, and Kylie, 15, were sitting in the front row, and though they were told to put on "earmuffs," I'm willing to bet it was somewhat uncomfortable for them to hear their mother share the details of her sex life.
So does this make you want to tune in and watch "Kris?"
Catch the full episode below!
Be the first to receive breaking news alerts and more stories like this by subscribing to our mailing list.