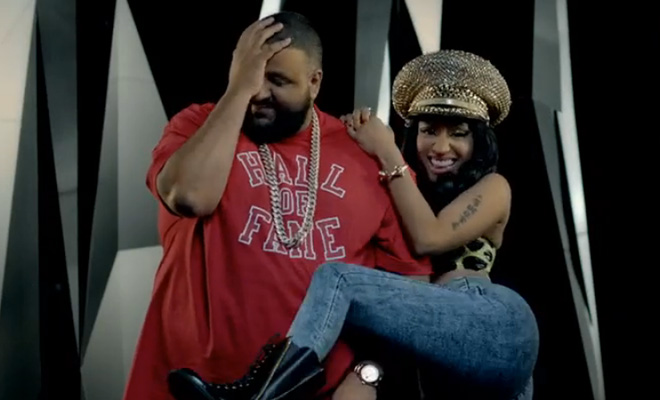 DJ Khaled recorded a special video message to Nicki Minaj last week confessing that he is in love with her and he wants her to be his wife.
"Nicki Minaj, I'm at MTV, I'm going to be honest with you. I love you. I like you. I want you. I want you to be mine," he said in the video. "I'm at MTV because it's a worldwide network, and the only reason I'm not telling you this face to face is because I understand that you're busy."
He continued, "I feel like you need a man like me in your life … We got the same symptons. We both suffer from success. You're out there touring. You're out there hustling. You're out there making music. And you're out there WINNING. I understand. That's why I feel like you need a man like me in your life that's gonna take care of you and respect you."
Finishing off his very public proposal, DJ Khaled said this: "Nicki Minaj, will you marry me?" and then he pulled out a shiny 10-carat ring reportedly worth $500,000.
But the question on everyone's mind right now is … "Was he serious?"
He says he was.
According to US Weekly:
While Minaj, 30, hasn't responded to the proposal yet, he told Us Weekly exclusively at a screening of Magic City for friend, rapper Rick Ross, on Friday, July 26, at Eventi Hotel in N.Y.C. that he was 100 percent serious in the video.

"I want to marry her! I was serious," he told Us, adding that he hopes to hear from the former American Idol judge soon. "She can take her time and think about it. At least she knows how I feel now."
A $500,000 ring though? That sounds pretty serious to me!
Be the first to receive breaking news alerts and more stories like this by subscribing to our mailing list.