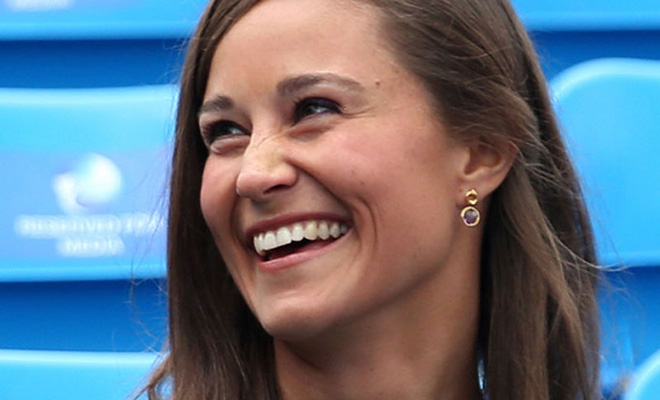 Back in May of 2011, Pippa Middleton became a global sensation. She famously stole the spotlight from her sister Kate during her televised wedding to Prince William and became a celebrity in her own right.
The paparazzi swarmed her, tabloids analyzed her every move, and she was painted as a gal you'd love to have as your best friend. But alas, the press have gradually turned on her, criticizing everything from her fashion choices to her taste in men.
The shift in how Pippa is perceived has been so drastic, that the New York Times recently published an essay that analyses why and offensively comes up with a variety of adjectives to describe her rear.
According to the outlet, the prime reason for Pippa's decline in popularity may be attributed to her decision to become a lifestyle writer, which may be seen as an attempt to capitalize on the attention she received as a result of her sister.
Pippa is currently a contributing editor at the esteemed Vanity Fair magazine and writes food and party planning columns for U.K. mags. She also penned the home entertainment guide "Celebrate:A Year of Festivities for Families and Friends" that was panned by the press and failed to lure readers.
"People here just don't like her," Ingrid Seward, editor of the London-based Majesty magazine, said. "She is not a cook, not a writer and has not really done anything but get this all off the back of her sister. Generally, there is a feeling that she is simply capitalizing off the situation."

Camilla Tominey, the royal editor for The Sunday Express, a British newspaper, said, "There is some pretty sneering commentary over here that she has been cashing in on her sister."

But at the same time, both correspondents acknowledge it is not easy being Pippa. "Whatever she does, she will probably be criticized," said Ms. Seward, whose latest book, "A Century of Royal Children," will come out this August.

Ms. Tominey added: "She may have seemed like a shrinking violet around the time of the wedding, but she is not. She has to make a living and this is her found fame."

[…]

Furthering her fortunes, in June, Vanity Fair magazine announced that they had hired Pippa as a contributing editor. "We're delighted to have Pippa," Graydon Carter, the magazine's editor, was quoted saying on its Web site. "She's a keen observer of classic British pastimes."

But her first dispatch in the July issue did not exactly prove fascinating reading. Writing on the upcoming Wimbledon tournament, she gave advice on everything from how to handle the weather ("You have to prepare for all weather surprises") to measuring the audience's enthusiasm ("You know the crowd is having fun and enjoying the match if the wave starts").

"It was a 4-year-old's guide to Wimbledon," William Hanson, an etiquette expert and frequent royal commentator for the BBC said. "I personally feel sorry for Pippa," he added. "She must have thousands of offers, and she is picking the wrong ones, making a fast buck."
The 29-year-old's writing has been mocked extensively and Pippa is threatening to sue the owners of a parody Twitter account that spoofs the "advice" she's giving in her columns and her book.
@Pippatips mocks her unbelievably obvious tips with posts like "headache tablets can be a great in helping deal with a headache." Seriously, check it out. It's hilarious! But the account, which has well over 50,000 followers at this point, isn't amusing to Pippa, whose lawyers have demanded that it be deactivated.
Pippa's problems began after her sister's wedding. Rather than becoming one of Kate's ladies-in-waiting, as Princess Diana's oldest sister, Lady Sarah McCorquodale, did for a time (and as the press had speculated Pippa might do), she instead received a postnuptial literary deal from Penguin Books for $600,000 to write "Celebrate: A Year of Festivities for Families and Friends." The book covers how to host everything from an afternoon tea to an overnight camping trip, complete with recipes, party tips and the history behind British rituals such as Bonfire and Burns Night.

Though beautifully produced with colorful pictures of Pippa lounging seaside with friends, Pippa painting Easter eggs with blond-haired children, and Pippa glamorous and glittery in sequins on New Year's Eve, when the book was released last October (timed by Pippa to not interfere with the Queen's summer jubilee festivities), it flopped, selling just over 2,000 copies in the first week, leading some booksellers to slash the cover price just before Christmas from around $40 a copy to just under $10.

Criticized by reviewers for being overly simplistic with tips on how to make tea ("tea bags should go in a teapot"); star gazing ("best in pitch darkness on a very clear night"); children's sack races ("put both legs in a sack"); and even ice preparation ("fill trays with water"), it seemed to fuel more jokes than book sales on Amazon. Now numbering near 1,000 at #PippaTips, a parody Twitter account her lawyers are reportedly trying to shut down, tweeters are eagerly adding to her advice list ("to sleep find a comfortable place to lie down," "some food is best served hot, some cold," and, most recently, "expect to feel tired after giving birth").
The essay also points out that the Middletons are very well-off, which means that Pippa shouldn't even be worried about making her own living:
But does Pippa, 29, really need to earn her keep? The Middleton parents' mail-order supplies business, Party Pieces, was estimated by financial analysts around the time of the wedding to be worth around £30 million ($45 million), given their newly cemented courtly connections.

Family trusts and inheritance have also reportedly helped the Middletons with the purchase of their latest home (an 18-acre manor house in Berkshire), as well as a $1.2 million apartment they bought years ago that Pippa and her younger brother, James, now occupy in London.

"They are a very wealthy family," Ms. Seward said. "Those kids are not wanting for anything. Let's just say they don't have to pay a mortgage."
But as horrendous as the new essay makes her reputation out to be, the fact that the New York Times has released an in depth piece on her means people still care enough to talk about her. In other words … Pippa wins.
Furthermore, cutting a woman down, comparing her to her sister, and seemingly criticizing her for not becoming her sister's "lady in waiting" is pretty ridiculous. If everyone who has "capitalized" on their fame was critiqued by the press, there'd be no more room for other news stories.
Be the first to receive breaking news alerts and more stories like this by subscribing to our mailing list.