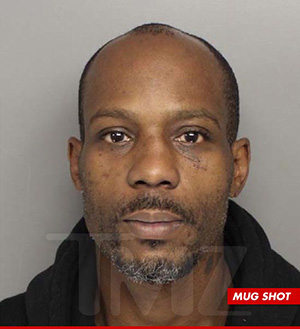 DMX was reportedly arrested in South Carolina Thursday night for driving under the influence, without a license AND without a seatbelt.
Although a rep. for the rapper is refuting those reports, Bob Beris, a South Carolina state trooper, told Hip Hop Wired that he spotted X driving "erratically" on US highway 29 in Greer, S.C., where the rapper now lives, and radioed a "possible DUI."
Beris said he pulled over the 1978 Plymouth station wagon DMX was driving and gave the rapper a field sobriety test, which he failed. X was then taken to the Greenville County Detention Center, where he was charged with DUI, not having a driver's license and not wearing a seatbelt.
The rapper, who is pretty seasoned when it comes to getting arrested, was booked, took a mugshot (see above), paid a fine and was quickly released.
The next day when the story broke in the news, the rapper's PR issued the following statement denying reports that he had been arrested for DUI:
"Allegations about DMX being arrested for drunk driving are false. He was arrested early this morning but quickly released. X was given a breathalyzer test and easily passed it. He is back at his home in South Carolina and we are continuing our focus on his upcoming album and acting roles."
DMX has more than a dozen arrests under his belt for multiple offenses, including prior DUIs, animal cruelty, reckless driving, driving without a license, drug possession, possession of a weapon and identity falsification. He was arrested back in February, also in South Carolina, for driving without a license.
A quick look at DMX's Wikipedia page proves his multiple run-ins with the law, showing that he has been arrested several times since becoming a public figure in the late 90's.
But we will give the guy some credit though. He was NOT arrested (not even once) in 2012.
Mugshot: TMZ
Be the first to receive breaking news alerts and more stories like this by subscribing to our mailing list.