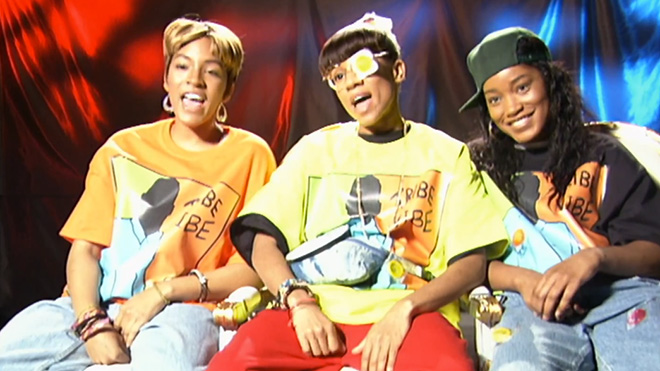 Maybe it's because it feels like it'll never work without Left Eye. Perhaps it's due to me still being bitter that "Touch Myself" never took off and T-Boz never got a fair shake at solo stardom.

Whatever it is, I'm not as excited about word of a TLC reunion as I was when SWV got back together and when we all thought En Vogue would finally do the same. Even so, the train on their reunion is moving and you best get on the bus if you're even a wee bit curious.
In a press conference in New York, T-Boz and Chilli confirmed that their greatest hits album will drop on October 15 via Epic Records. The album will include remastered and redone versions of their classic hits like "Waterfalls" and "No Scrubs."
Additionally, there will be some new tracks and there are some top notch talent that have attached their names to the project. This includes Ne-Yo and Lady Gaga who have each penned songs for the remaining duo. Drake and J. Cole will be featured on two of the new tracks.
It's pretty impressive that Lady Gaga has submitted a song. Like, that could be major for them in a perfect world. I may not be excited about the new music, but my interest is at least piqued now. And I've got to give it to Auntie T-Boz. She is taming that weight down and even though she's not twerking at light speed anymore, she's obviously been working on it.
This could either go supremely well or terribly, terribly wrong. Speaking of, VH1 has released the trailer for their biopic entitled CrazySexyCool: The TLC Story. Quite a few are acting as if it's the worst thing they've ever seen. I don't agree. In fact, Lil' Mama looks surprisingly convincingly as Left Eye. Shout out to you, girl, and your make up artist for painting you correctly.
Now, here's the trailer:
Be the first to receive breaking news alerts and more stories like this by subscribing to our mailing list.