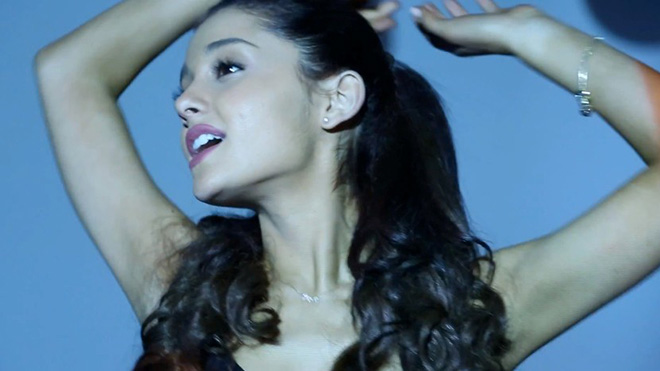 Ever since I became aware of what an Ariana Grande was, I've been enamored. I love her new single "The Way" with Mac Miller.
Musically, the song gives me teases of white Ashanti and Ja Rule from a voice that probably makes Mariah Carey want to nest on the blood of a youth ala The Snow Queen from Snow White and the Huntsmen.
Ariana might not match the might of Mariah Carey's voice before the cigarettes and chardonnay did their damage, but she definitely has the kind of chops that make you take notice.
Listen to this:
And this:
Usually when I hear someone try to pull off a Mariah Carey song, within seconds I have to rush to hear the real thing the way God intended. With Ariana, I at least want to wait half a minute. Gon', girl. That is impressive. No one can top vintage Mariah, but to be able to pull off a cover of one of her songs that well says a lot about Ariana's talent and potential. Now someone needs to tell her to cover Mimi's "Honey."
Check this one out, too:
So this is what Rihanna's songs sound like when someone who genuinely cares about singing is performing them? To Rih-Rih's credit, though, she has the attitude to pull off the track better. Be that as it may, consider me a fan of Ariana. I've already given her $1.29 for "The Way" and I just gave her another for "Baby I."
I'm ready to give her more so long as she keeps singing good songs with that fantastic voice.
I feel as though Ariana Grande will be what Christina Aguilera was supposed to be. "The Way" reminds me of X-Tina tracks like "Come On Over (All I Want Is You)" and "When You Put Your Hands On Me." Those songs had an obvious flirtation and underlying sexual tone in the case of the latter, but it wasn't full out freaktastic. You know, ala "Dirrty" in which Christina is rolling around in the mud and humping the wrestling mat.
I don't mind Christina wanting to sing about the sex, but I do take issue with her singing like the choir director of Alcide's wolfpack on True Blood. She doesn't even sound the same anymore as a result of all those banshee cries — and then has the nerve to drop back to back lengthy albums full of fillers.
While distraught Christina Aguilera fans continue to pray for the future of her music career and throat, I want to additionally send out good vibes to Ariana Grande. May you continue to control your voice while building its ability and keep your music fun and bop-friendly. For you are the future. Amen.
---
Young Sinick is actually Michael Arceneaux in disguise, but shh…you're not supposed to know that (unless you read his tweets). This post originally appeared as an essay on his personal blog The Cynical Ones, where he shares his thoughts on anything that crosses his mind when he's not busy writing for other sites like Ebony.com, Complex.com, theGrio, Clutch Magazine, etc.
Be the first to receive breaking news alerts and more stories like this by subscribing to our mailing list.