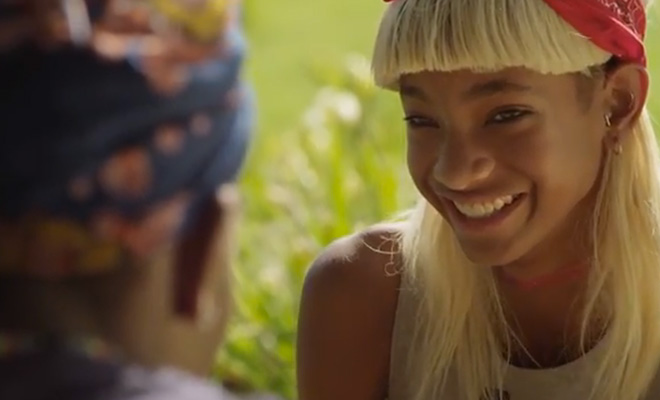 There's a rumor going around that Will Smith is furious with his wife Jada Pinkett Smith over their daughter Willow Smith's recent video. Why? Apparently, Will felt it was "too sexy."

I've seen the video, and while I personally found it inappropriate considering she's 12 years old, I have a hard time believing Will would get mad. Those two seem dedicated to letting their children run free like 50-year-olds, but you know, I'm sharing anyway.
The National Enquirer claims:
A source says mom Jada gave the project the green light – and now dad Will is furious!

"He's fit to be tied," disclosed an insider. "He almost had a heart attack the first time he saw the video. Will lashed out at Jada, saying, 'How could you let my little baby do this?' Will is very traditional and worries that his kids are growing up too fast."

Will, 44, and Jada, 41, have been married for 15 years, but an insider says the union has been rocked by recurring disagreements over what's appropriate – and what's not – for their kids.

In December, The Enquirer revealed that Will started a family "boot camp" to bring his kids back in line after Willow and her brother, Jaden, 15, pulled a series of out-of-control antics.

In April 2012, Willow took to her Tumblr page to write a disturbing post in which she made shocking references to mental illness, suicide and drug use. Jaden, meanwhile, caused a stir of controversy when he was accused of blasting a female fan in an expletive-filled tirade on social media, which he denied.

"Will and Jada are bickering nonstop about their children," continued the source. "They're locked in a tug of war and don't agree on anything these days. Jada is very strongwilled, but now Will is threatening to put his foot down once and for all. He's sick of seeing his daughter act like she's 12 going on 24."
The video in question, in case you missed it:
I don't know if Will and Jada are really having issues over this video, but I would like to express that this song is horrible and the video is indeed way too grown.
Why is a tween singing about a summer fling? Why are all of her songs so damn melancholy? What exactly can a rich kid who is allowed to do whatever the hell she wants all the time be sad over?
In fact, why is she still singing at all? Isn't she supposed to be somewhere having a child's life, per her own request? Like, go study that math you previously claimed not to know.
To be honest, I'm just a bit exhausted by this family. The creepy father-son interviews in which both sound like they're sitting in first class on the mothership; Jada Pinkett-Smith giving life advice; Jaden rapping like Q-Tip; Willow singing like she's one step away from ending up like the cast of Girl, Interrupted.
It all must stop.
Be the first to receive breaking news alerts and more stories like this by subscribing to our mailing list.