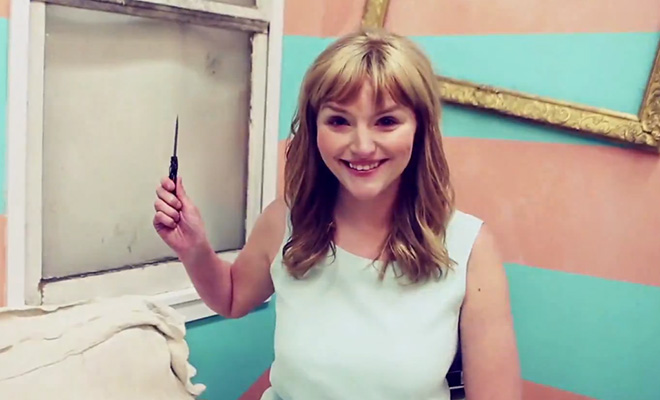 Have you ever wondered what would happen if Barbie was involved in a love triangle with Ken and a real live woman? Neither have we, but apparently that's because we're lacking the amazeballs imagination that Oh No Fiasco has.
The outrageous video is for the electro punk band's new song "Down," from their new album 'No One's Gotta Know.' It features a lovely (albeit damaged) blonde (Lindsey Stamey) engaging in a make-out session with a Ken doll, because why not?
Passions ignite and before you know it, she and the undressed Ken are engaged in a passionate tryst. We initially thought Ken couldn't have sex because of the fact that he doesn't have genitals and is a plastic toy but it looks like there's a way.
A montage follows, which shows the two on a picnic, frolicking, getting married, and having four babies with adult heads and barbie doll bodies.
But alas, all good things must come to an end, as the video's heroine sees him receive a text from Barbie asking him to "come home." He's been two-timing her! A deadly fight ensues and she ends up strangling the doll to death. Is it murder if the guy wasn't ever really alive to begin with?
Jokes aside, the video could be viewed as a metaphor for the fake personas some adopt in relationships or the faulty cookie-cuter world that Barbie and Ken represent. Whatever it's meant to symbolize, it's wicked cool!
'No One's Gotta Know' will be available on Sept. 10.
Be the first to receive breaking news alerts and more stories like this by subscribing to our mailing list.