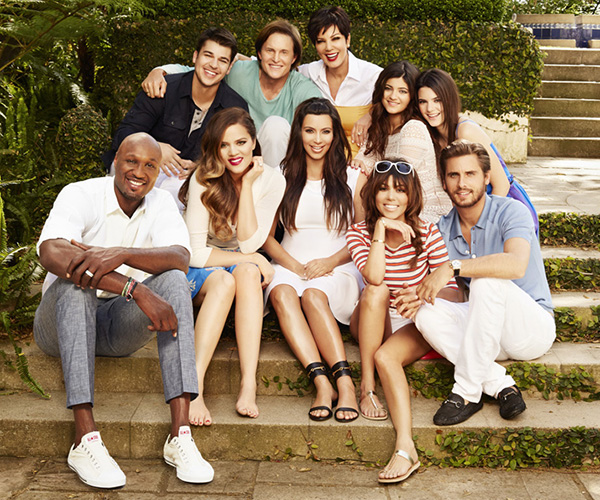 Over years, The Kardashians have seen an enormous amount of success as a result of them starring in their own reality show. But according to a new report, the family — namely breadwinner Kim Kardashian and puppeteer Kris Jenner — has been thinking about ending their reality run on a high note, rather than watching it die a slow death.
Currently in its eighth season, "Keeping Up with the Kardashians," which follows the lives of the Kardashian and Jenner family — including older sisters sisters Kim, Kourtney and Khloe, their brother Rob, and their younger sisters Kendall and Kylie, as well as mom and stepdad Kris and Bruce Jenner — is widely considered to be the "biggest reality franchise of all time," and in April 2012, E! signed a three-year deal with the Kardashian family worth $40 million that will keep them on television through the year 2015.
But what happens after that?
Well, apparently, Kim (now that she's a mom) and Kris (who wants to start producing movies) both believe that it's time to move on and put the fire out while it's still hot, instead of waiting until it goes out on its own, in other words, when people get tired of them — which is already starting to happen.
"It has been the biggest reality franchise of all-time. Both Kim and Kris want to make sure they end on a high note, leaving fans wanting more, rather than try and stretch the show on for another few seasons and watch it die a death," one family insider tells Naughty But Nice Rob.

"Plus, they are now moving on in their lives. Exploring new options and opportunities. Kim wants to be with her daughter and Kanye, while Kris wants to focus on being a talk show host and maybe start producing movies. She's telling everyone that one day she will have an Oscar."

"They have all made so much money that they never need to work again. They want a break from the cameras. That shouldn't be too surprising. Afterall, all the great shows eventually end, just look at Friends, Oprah and Seinfield," adds another pal, without any irony!
Will you miss the Kardashians when they're off the air?
Be the first to receive breaking news alerts and more stories like this by subscribing to our mailing list.