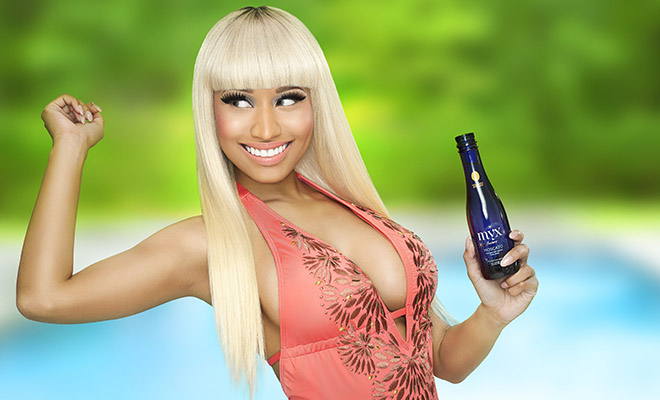 Say what you will about Nicki Minaj, but you can't call her a damn fool bound for rap struggles like Lil' Kim and Foxy Brown.
As most of you know by now, Nicki Minaj has become the face of the Mona Scott-Young backed line of mixed Moscato drinks. However, what you probably didn't know was that Nicki is also now part-owner of the venture.
Forbes reports:
She's a co-owner. Aiming to tap into the rapidly expanding Moscato market, estimated to be growing at 25% annually, Minaj partnered with Mona Scott-Young, Myx Fusions Moscato CMO, and Peter Reaske, Myx Fusions Moscato CEO.

In doing so, she's going where men have gone before. Jay Z, Diddy, and Ludacris have deals with wine, beer, and champagne brands. Jay Z turned up his nose at Cristal champagne and partnered with Champagne Cattier and Sovereign Brands to preach the virtues of Armand de Brignac, popularly known as Ace of Spades. Diddy touts the virtues of Cîroc vodka for a fee and refers to himself as "Cîroc Obama." Ludacris co-owns Conjure Cognacs.

"I've gotten offers to do partnerships with heavy liquor before," Minaj says. She chose Moscato because "I wanted it to be something I really enjoyed the taste of, before I put my name on it."

Researching this story, I couldn't come up with another female rapper who had done this sort of deal before with a booze company. The closest I could locate was Lil' Kim's stint as the face of Three Olives Vodka back in 2006. With Myx, Minaj has a piece of the back-end.
Nicki noted in the interview, "I kind of think of myself almost like a man. I'm not going to fall back from something because it's never been done before by a woman. It's time for a female Jay, a female Puffy."
For the record, that moscato and coconut mix that Myx sells is the one. So know that now whenever you buy Myx Fusions, you're supporting both alcohol and women entrepreneurship.
I'm so happy for Nicki Minaj. She's seen the stumbles of rappers like Da Brat, Lil' Kim, and Foxy Brown post-peak and realizes that unless you end up with a rich European who can cover your tax debt like Eve, you best handle your business.
Love that Nicki's taking control of her destiny. But you know, poor the rest of them.
Be the first to receive breaking news alerts and more stories like this by subscribing to our mailing list.