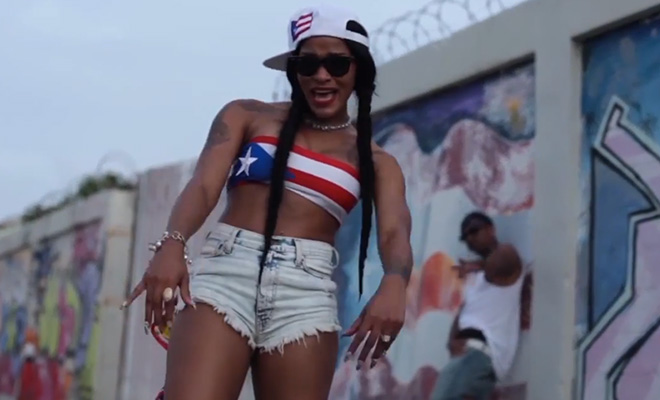 Although I adore the Puerto Rican Princess, Joseline Hernandez, and support whatever efforts will make certain that she never has to go back to the strip club or the sidewalk (allegedly), I'm not sure the world needed a bilingual version of Gangsta Boo.
It's not that Joseline isn't tough. Like, I've seen her sock the hell out of Stevie J with the kind of force only similar to that of the late Andre the Giant. But given so much of Joseline's storyline about being an aspiring recording artist consisted of her letting Stevie J palm her ass in the studio and her shaking said ass in the highest of heels on stage and in the dance studio. So when Joseline finally gives us her first musical offering, I hadn't anticipated a Spanish version of Foxy Brown's "BK Anthem."
That said, this isn't half bad. She filmed this on her own, but it doesn't look cheap at all. Granted, Stevie J standing in the background like a cheesy dope boy makes the video nearly teeter on parody status solely on principle, but other than that, visually it's cool.
I didn't pay enough attention in Spanish class in high school to know what Joseline is saying, so I'll give the floor to my Spanish-speaking readers to let me know if her rhymes are up to par. Be sure to tell me if at any time Joseline says in Spanish, "I took your dreams, hoe!" That would be an obvious shot at Somaya Reece.
I don't know, y'all. I was expecting something trashy and cluckable from Joseline. A track that would command my hands to place themselves on my knees. This isn't it, so I'm a bit disappointed.
Am I a sexist asshole for expecting Joseline to be the 'redbone' Trina she thinks she is? If so, sorry, feminist Jesus. I'm still a work in progress. She still gets a passing grade overall, though.
Of course, I deducted points for that "Steebie" tattoo on her arm. Girl, if you don't use some of that VH1 and club appearance money to buy yourself some self-worth. This is your video and Stevie J is acting as the Ma$e to your Diddy.
I'm pretty sure at this stage in your life you could go buy an old man and have him be your daddy — freeing yourself from this creepy hold Steebie has on you.
---
Young Sinick is actually Michael Arceneaux in disguise, but shh…you're not supposed to know that (unless you read his tweets). This post originally appeared as an essay on his personal blog The Cynical Ones, where he shares his thoughts on anything that crosses his mind when he's not busy writing for other sites like Ebony.com, Complex.com, theGrio, Clutch Magazine, etc.
Be the first to receive breaking news alerts and more stories like this by subscribing to our mailing list.