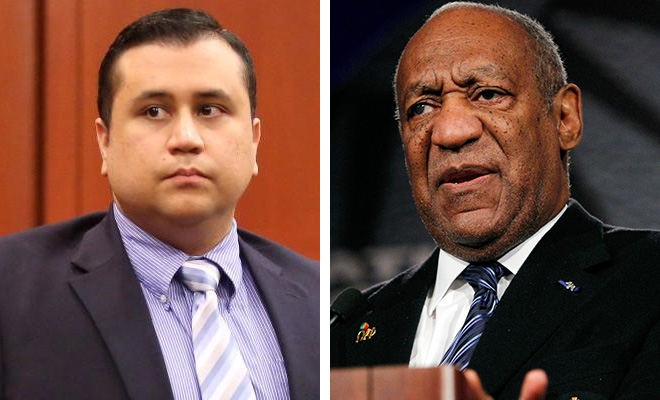 What a pity that A$AP Rocky has more insightful things to say about George Zimmerman and Trayvon Martin than Bill Cosby.
In yet another sign that he's growing increasingly bitter, if not senile, Grandpa Bill launched in a nasty rant about the Zimmerman verdict — suggesting that one can't call another person a racist without definite proof.
That is one of the stupidest things I've ever heard in life given there are slurs and then there's institutionalized racism. As in, you can go life without screaming "nigger," "porch monkey," or "coon" and still be a racist.
Now roll your eyes at Jello Man (via the Orlando Sentinel):
"This racial stuff goes into a whole bunch of discussion which has stuff that you can't prove," Cosby said in an interview Tuesday. "You can't prove somebody is a racist unless they really come out and do the act and is found to be that."

The folks at "DomNnate Radio" shared Cosby's views; they plan to post them soon on their YouTube channel.

Cosby's take on the trial? "The prosecution did not tell the story well, and they lost," Cosby said.

His take on the media? Cosby was over the media after the Casey Anthony trial. "I found the media were jumping and had this woman guilty," Cosby said. "I will never pay attention to information given to me by TV, radio or whatever about a high-profile case until the jury says what it says."

Cosby sounded incensed that people were giving their opinions in what amounted to moneymaking operations for media companies.

His take on guns? "I know if you have a gun, it changes your whole feeling about what you can tell people, about how people better do what you say," Cosby said. "Your mind can turn in such a way that you have a sense of control."

Cosby noted that Florida law says people have a right to defend themselves, but the situation "is getting out of line."

But racial profiling? "Let's not go into a racial discussion unless we really have something there," he said.
So if we can't call George Zimmerman a "racist," then what can we call him? A murderer? A fatty mcfat fat? Because he's definitely those two, and we have proof!
Be the first to receive breaking news alerts and more stories like this by subscribing to our mailing list.