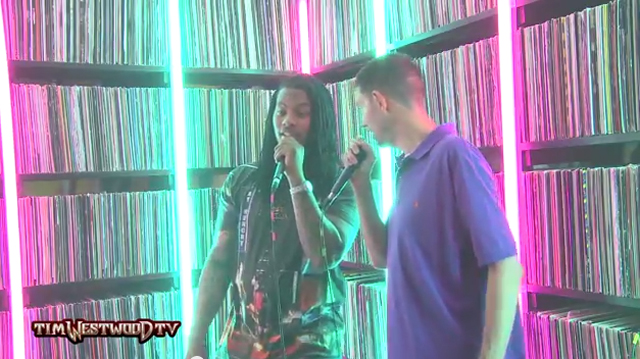 Once upon a time, Gucci Mane and Waka Flocka Flame were BFFs. Now, they can't even stand to hear each other's name. Where did it all go wrong?
While overseas in the UK doing some promotional appearances, Waka hit up Tim Westwood and answered a few questions for the legendary hip hop journalist. Things started out quite pleasantly as Tim complimented Waka's woman friend, but it got real cold real quick when Tim asked Waka about Gucci.
"What's happened with you and Gucci?" Tim asked.
"Who dat is? Who dat?" Waka answered. "Who is that?"
This is actually a page right out of Mariah Carey's book. Back in the day when she was beefing with Jennifer Lopez, a German TV journalist asked Mariah how she felt about Beyonce and her rival Jennifer Lopez. She gushed about Beyonce, but when the interviewer pressed her for her feelings about J.Lo, Mariah shadily responded, "I don't know her" and smiled.
So yeah, maybe Gucci's a lamb, cause that was uncannily similar to his reaction to Gucci Mane's name being brought up in an interview. I'm sure a remix collaboration of some sort with Mariah Carey is in Waka's future.
WATCH WAKA DISS GUCCI MANE IN HIS INTERVIEW
Be the first to receive breaking news alerts and more stories like this by subscribing to our mailing list.