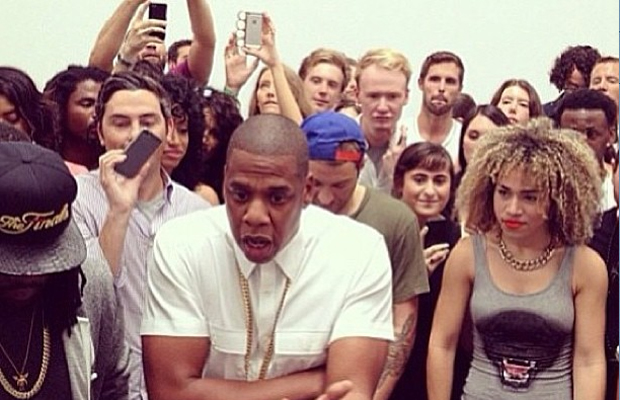 The promotional campaign for Jay-Z's new album 'Magna Carta Holy Grail' — which went platinum as soon as it was released, thanks to Samsung pre-ordering a million copies of it — is all about changing up the game (#newrules). And apparently, a part of changing the game up means doing some performance art.
According to Complex, Hov shot some scenes for the video for "Picasso Baby" (a song from the album) at the Pace Gallery in NYC, where he reportedly rapped the lyrics for six hours straight.
It's being said that Jay-Z's performance art piece takes direct inspiration from artist Marina Abramovic's 2010 MoMA exhibition "Marina Abramovi?: The Artist Is Present" — in which she sat during business days for almost two months, or about 736 hours.
For his version, Jay-Z is interacting with guests for just six hours, lip-synching the lyrics to "Picasso Baby" at them while the song plays on repeat in the background. To make things even more interesting, Jay-Z invited Ms. Abramovic herself, and was captured in some Vine videos rapping to her, which is pretty epic.
Fader was tipped off about the shoot's e-mail invite, which said that the audience would represent a "cross section of the New York art and cultural world" and that Jay's "surprise" performance would be "experimental and collaborative," playing with rap's "history with endurance."
Watch a collection of Instagram & Vine videos of Jay-Z's performance here:
Be the first to receive breaking news alerts and more stories like this by subscribing to our mailing list.